Small and medium sized businesses discover new ways of working at CU London event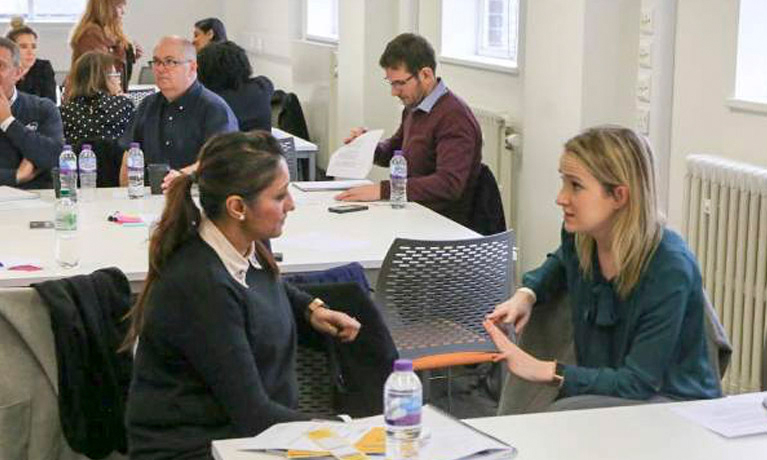 ---
news
Friday 23 February 2018
Press contact
---
CU London held its first business event for small and medium sized organisations to encourage local businesses to consider new Ways of Working (WoW).
The aim of the event was to discover what support the Coventry University Group can offer to small and medium sized businesses and how we work with organisations of all sizes.
We're here for you as we want to support one another.

Andy Ginn, Associate Pro-Vice-Chancellor, CU London
The business representatives that attended ranged from the CEO of Barking Enterprise Centres and directors of small businesses to an independent cake decorator.
Kerry McGreavy, Apprenticeship Manager at Coventry University, The Nationwide Apprenticeship started the day with 'An Introduction to Apprenticeship Opportunities for Non-Levy Payers'. She highlighted the opportunities that small and medium sized businesses should seize and pointed out that employer's National Insurance contributions are refunded for apprentices under the age of 25.
A range of guest speakers then covered business issues that affect working practices. There was an overview of the forthcoming General Data Protection Regulations (GDPR), government legislation that will dramatically affect how data is handled in all sectors.
Speakers covered ways of working that can give businesses a competitive advantage. Leaders from the Coventry University Group demonstrated how small and medium businesses can navigate key strategic challenges. Insights from professional areas were also drawn upon, with an overview of the Competition and Markets Authority (CMA) from the Legal Services team at Coventry University.
Interactive exercises helped delegates identify ways that their own businesses could benefit from services offered at CU London and the other organisations that comprise the Coventry University Group. There was exclusive insight into how delegates' businesses could work with the 'Value Proposition Canvas' model, involving a collective working session.
This session made me realise that Coventry University is ranked 12th in the country. What an amazing resource we've got in Barking & Dagenham. There is a growing young population in Dagenham, so for local people to have access to CU London is excellent!

Fozia Parveen-Sheikh, Partnership Director for Barking & Dagenham, ELBA
Attendees appreciated the opportunity to network with other local businesses. The event was the first in a series of initiatives undertaken by CU London to expand its links in the local business community.
Contact us if you would be interested in developing a partnership in the London Borough of Barking & Dagenham and beyond.