Local business given a helping hand by CU London marketing students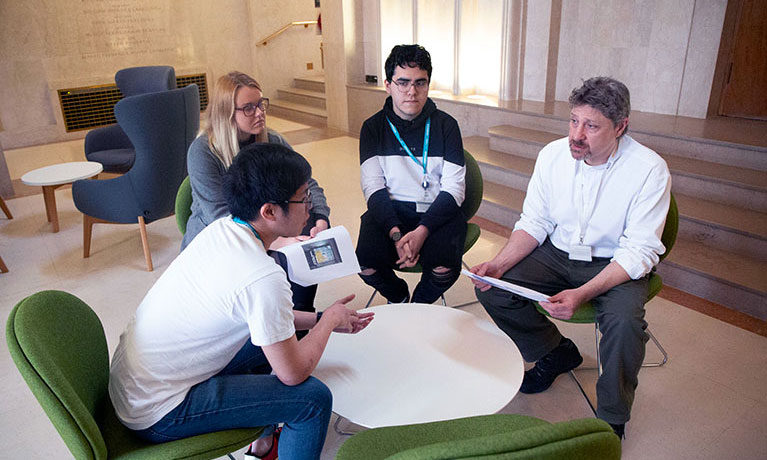 ---
news
Tuesday 11 December 2018
Press contact
---
A local businessman has been given a chance to boost his profile with the assistance of up and coming marketing experts from CU London.
Students from the CU London Marketing & Public Relations course have been set a challenge to help Alan Levy of Eyewear at Number 8 in Romford with a marketing plan.
Course leader Syed Naqavi wanted his students to get some real life experience under their belts and hopes that their work with Alan is just the start of a series of helpful relationships with local businesses.
Syed said:
We are keen to build links with local business at CU London.

For a class of future marketing professionals, this is a valuable experience of how to apply what they have been learning to a real world scenario.

For Alan, it is a fantastic opportunity to push his business with the guidance of our students, who are coming up with some great ideas.
So far, students have taken part in a Q&A session with Alan in order to learn more about his business and generate ideas, as well as visiting his shop in order to get a flavour of its local environment and unique features.
The class has been split up into groups, who are now putting together action plans, before giving Apprentice style pitches to win Alan over and get the chance to put their plans into place.
Alan said:
For me as a small business owner, there is hardly ever any time or money available to spend on marketing, it can become an afterthought.

I was delighted to be approached by CU London and from what I have seen of their marketing students so far, I think we are on to a winner.
Course leader Syed would love to hear from other small business owners who are looking for assistance and support similar to what Alan will receive and believes the mutually beneficial relationship can have a positive effect on the local community.
He said:
We welcome the opportunity to work with and support local businesses. If anyone running a business is willing to put their trust in the future of the industry, we encourage you to contact us.

Our students continually show innovation and enthusiasm, and we would love to help support your local business.
For more information on how your business can benefit from working with CU London's Marketing & PR students, contact Natel Allen, Employer Engagement Manager, on ac9398@coventry.ac.uk.