Dagenham women who made history 50 years ago reunited at CU London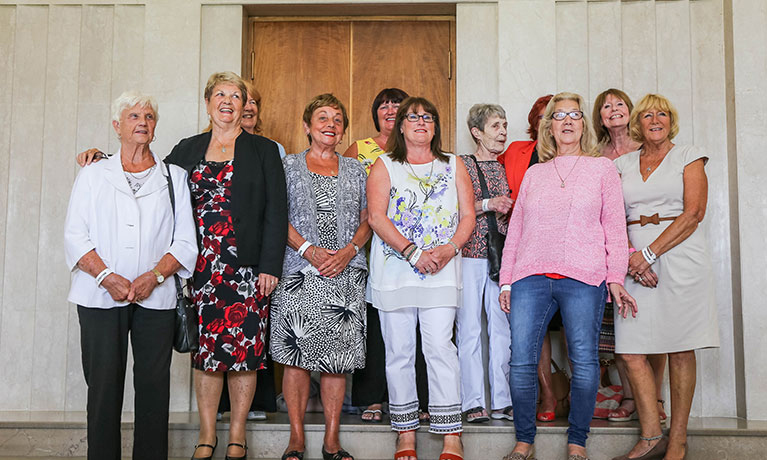 ---
news
Friday 08 June 2018
Press contact
---
The Dagenham women who made history 50 years ago by striking in order to get equal pay were reunited this week at an emotional and poignant ceremony.
The brave former machinists at the Ford Dagenham Plant, whose stand against receiving lower pay than their male colleagues became one of the most crucial women's rights movements of all time, came together once again at CU London, based at the former Dagenham Civic Centre, to mark the historic anniversary.
Joined by their counterparts from the Halewood Body and Assembly Plant in Liverpool, who also took part in the protests 50 years ago, the female workers whose strike eventually led to a halt in all car production from the motoring giant looked back on what they achieved during a day filled with presentations and testimonies from those involved.
Their story was turned into a movie in 2010 with the release of Made in Dagenham but heading back into the heart of Dagenham to meet at the iconic Civic Centre, now the home of CU London after a £4.5 million investment, brought real friends back together.
Carolyn Simpson, Regional Equalities Officer for Unite the Union in North London, was one of those who spoke during the day.
She said:
It was absolutely incredible to be at CU London to hear first-hand the stories of what led to this historic action and how these women stood up for what was right.

Their impact on women's working rights in this country is immeasurable and while you can debate that the Equal Pay Act would have eventually come into play, I have no doubt that it would have taken a lot longer if it wasn't for what they did.

To see these people back together and the emotion it brought up was amazing.
A presentation called 'Bread Money, Not Pin Money' was also made on the day by Sarah Jackson, co-founder of the East-End Women's Museum, while councillor Darren Rodwell, leader of Barking and Dagenham Council joined up with Steve Rotheram, mayor of the Liverpool city region, to pay tribute.
Andy Ginn, Associate Pro Vice Chancellor at CU London, said:
Everyone at CU London is incredibly proud to have hosted such an important event, paying tribute to women who really did facilitate huge change.

Playing a part in this story is an incredible privilege particularly since their stand remains so relevant today.