CU London students showcase their subjects in CUSU's I Love My Course competition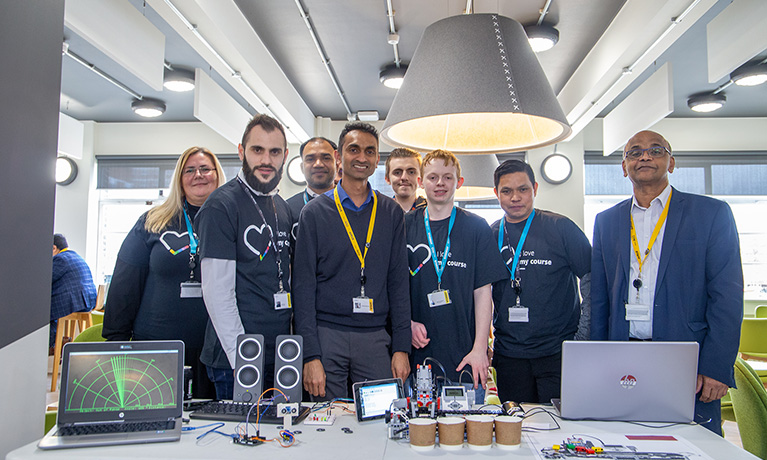 ---
news
Tuesday 25 February 2020
Press contact
---
CU London students signed up in huge numbers to participate in a ground-breaking competition that aimed to celebrate the very best of its degree programmes. The "I Love My Course" competition called on students across the Coventry University campuses to come up with original and innovative projects outlining why they love their course.
The competition gave students the chance to showcase their course, either by creating a pop-up stand on campus, submitting a video, creating a viral-worthy social media campaign or coming up with an enterprising proposal.
Organised by Coventry University Students' Union (CUSU), the competition had more than £17,000 available to win and participants competed for the chance to win prize money for their courses ranging from £50 to £1,000.
CU London's Cyber Security stand scooped the prize for best pop-up exhibition with its project titled "Programming – From Traffic Lights to War Machines". The innovative stand was headed up by second year student George Ion.
I was really happy when I found out that our project had won. Everyone involved worked really hard to prepare it.

We wanted to show our appreciation for our course by demonstrating the knowledge we have gained in algorithms and programming language from our Cyber Security degree course at CU London, and how it can be applied in a real-world scenario.

Our exhibition included three small projects which aimed to demonstrate how this technology can be applied in everyday life. The first involved sonar technology, which is used for navigation in ships and aeroplanes; the second was an innovative traffic light system; and the third featured a Lego sorting machine, which uses algorithms that can be applied across a range of industries.

George Ion, CU London student
Daniel Crawford, David Winning, Jian Cheng, George Tassev, Nolito Molina, Dara Olusegun, Rohan Kapoor, Luke Jessop, Mohammad Hoque, Anna Dabrowska and Sadaquat Al were also involved in the winning project. The students also received assistance from cyber security tutors Saminda Wattuhewa and Sebamalai Paheerathan.
George's team was great. Their project expertly showcased the skills they have developed during the course.

The competition was a really good way to bring various subjects together to share knowledge and exchange ideas.

Saminda Wattuhewa, CU London tutor
The event was a clear showcase of how passionate students, working together with strong support and initiative from their academics, were able to provide a positive collaborative experience that everyone was able to enjoy.

Patrick Tatarian, CUSU Coordinator for CU London
The prize money will go towards valuable technology which will assist CU London's Cyber Security students with their studies.
George and the team intend to invest in Raspberry Pi single board computers which will help people on his course develop their computer programming skills. They will also put the money towards Lego robotic technology that will enable the students to develop technology associated with the Internet of Things.