CU London student helps build and test vital ventilators being used by the NHS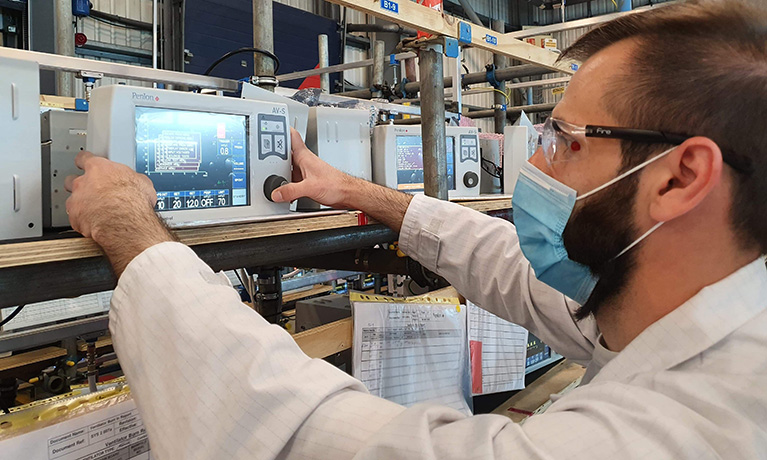 Campus news / Student news
---
news
Friday 19 June 2020
Press contact
---
A second-year cyber security student at CU London has been using skills gained through his degree to help build and test vital ventilators being used by the NHS during the Covid-19 pandemic.
George Ion, who lives in Romford, is part of a team working at Ford Dagenham to deliver 15,000 ventilators to the NHS in just three months.
Ford is part of VentilatorChallengeUK - a government call to the UK manufacturing industry to help produce ventilators in response to Covid-19 – and George volunteered to work for the initiative during the pandemic to help deliver the vital equipment.
He spent two weeks assembling ventilators before being trained in ventilator testing, and has been able to use his communication and collaboration skills as well as technical knowledge to support him in the role.
I was looking at jobs online and came across VentilatorChallengeUK. It seemed like the perfect job, not only using my skills but also supporting the NHS and helping to save lives during the pandemic.

I had some experience in the production field as well as knowledge that I have acquired during my degree which helped me get the job.

After two weeks of assembling ventilators my supervisor asked if I would like to move to the testing team.

We are working against the clock to produce the ventilators which can be very challenging, but I am able to use my skills to successfully communicate with my team and other departments.

The technical knowledge I have gained studying at CU London also means that I understand why some tasks have to be completed before others, why connections need to be checked twice and why the ventilators must be checked under different circumstances.

I feel proud to be part of the ventilator challenge initiative and I would like to thank my tutors for helping me to develop – it is because of them that I was able to take part in this excellent project for the nation.

I'm now looking forward to starting my final year at CU London, its cyber security course is fantastic and I'm really enjoying developing my skills.
We are extremely proud of George and his efforts to support the NHS during the Covid-19 pandemic, and it is fantastic that he has been able to use the skills developed during his degree to support him in the role.

It is a remarkable example of how the best in technical and professional degree delivery prepares students for the real world and it's ever-changing workplace demands, even in the midst of an unprecedented global pandemic.

We wish George the very best in his final year of study with us.