CU London student bids to pursue career change through retraining offer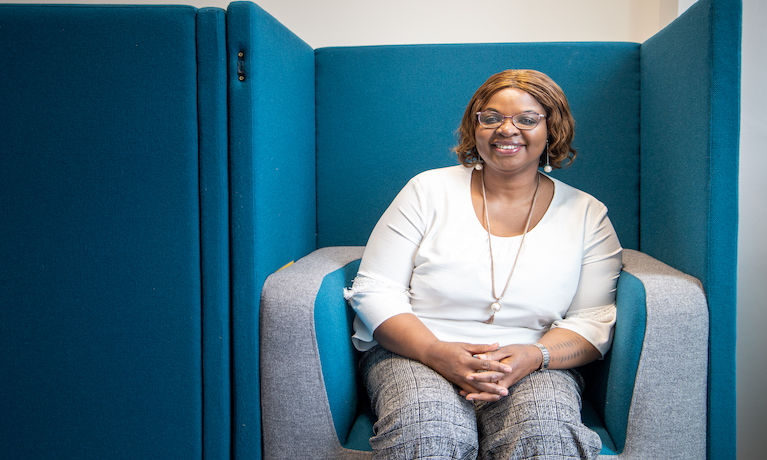 ---
Tuesday 15 June 2021
Press contact
---
After spending more than 24 years working in childcare, a mature student is changing the direction of her career path with CU London at its new campus in North Greenwich.
Mother-of-four Grace Daramola, from London, has been working with children under five years old since 1993, and now wants to build on her leadership skills and move into teaching adults and mature students in a higher education setting.
Several years ago, Grace took voluntary redundancy from her role as an early-years practitioner and decided to set up her own business, offering childcare to children with additional needs.
With a desire to keep an open mind about her future career prospects, Grace has now chosen to study a Coventry University BA degree with honours in business management and leadership at CU London with the aim of developing her entrepreneurial skills, whilst also opening up an opportunity to study for a PGCE.
CU has really refreshed my mind. I've loved the project management, strategic management and globalisation modules we've studied as they have given me a real insight into how I can hone and develop my business management skills.

I'm really hopeful this course can kickstart my journey to become a university tutor, as well as giving me the flexibility to keep my career options as open as possible.

Grace Daramola, CU London student
Since embarking on her studies with CU London, Grace says she's been delighted with the quality of education and support she's received from staff, as well as the relationships she has built with fellow students.
I've really enjoyed my experience with CU London so far and we've all been lucky to have great staff and teachers there to support us with a blend of on-campus and online learning. I've also felt very privileged to have such a great study group to share ideas and build a bond with.
CU, part of Coventry University Group, offers a range of career-focused courses in a supportive environment, with flexible entry requirements and pathways onto courses providing access to higher education for students from a wider range of backgrounds.
With campuses in Dagenham and Greenwich, CU London runs a range of programmes timetabled to allow students to fit classes around other commitments such as work or childcare and to focus on one topic at a time. Students on most CU London programmes also have the option and flexibility to start their studies at one of six entry points across each year, offering them a learning experience to suit their needs.
Find out more about CU London and the wider retraining and reskilling options available across the Coventry University Group.