CU London receives milestone number of applications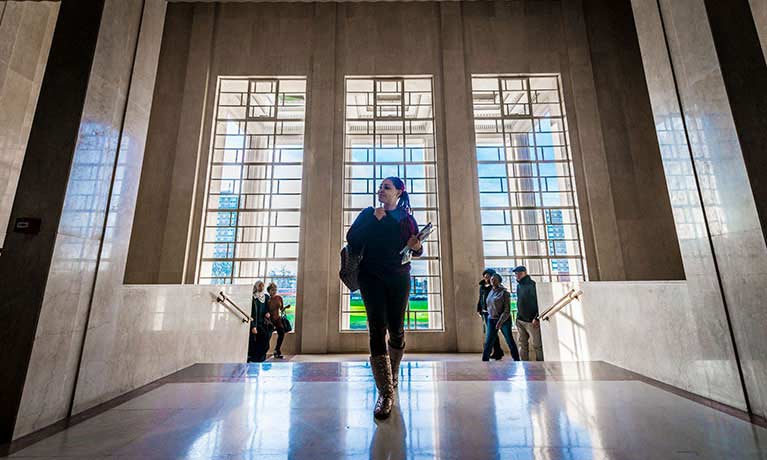 Degree news / Student news
---
news
Thursday 01 November 2018
Press contact
---
A milestone number of applications have been received from students looking to learn at Barking and Dagenham's CU London campus.
The Coventry University Group put £4.5 million into restoring and revitalising the historic Grade II listed former Dagenham Civic Centre as the home of CU London, which is now transformed into a top-quality learning environment after opening in September 2017.
Now, just over a year on from its opening, well over 1,000 people have submitted applications to study on the range of courses offered at the site.
Associate Pro Vice Chancellor Andy Ginn said:
This 1,000 application milestone feels really special, given that we've only been here a year. We are continuing to grow at CU London and we are seeing more and more people show an interest in joining us.

We offer lower fees and more flexible and accessible learning options than other universities, which fit around students' lives. These include 6 entry or exit points a year, meaning that an applicant is never more than a few weeks away from starting with us, or indeed taking a study break if that's helpful.

There are no formal exams and all students study one module at a time. Assessment results are provided immediately at the end of the module, so there is no stress associated with the uncertainty of a year without knowing how things are going.

These things are what students say they love about CU London. A lot of people would love to go to university but feel they can't because of other commitments, we are helping them get the qualifications they need to take on a career they love.
A broad range of courses are on offer at the campus including: cyber security; policing; primary education; law; accounting; business; health and social care; engineering; and more.
The flexible approach taken by CU London means that students can take advantage of a wide range of options to suit their lifestyle, including full-time, part-time, evening and weekend options for courses.
Conor Jackson, Head of Sales and Recruitment at CU London, said:
Our flexibility is one of our most unique traits and gives us a fantastic opportunity to take in a broad range of students.

With 60% of our current students coming from local London boroughs and more than half over the age of 21, we feel that what we offer is something that can really widen participation in higher education.