CU London provides working space for local organisations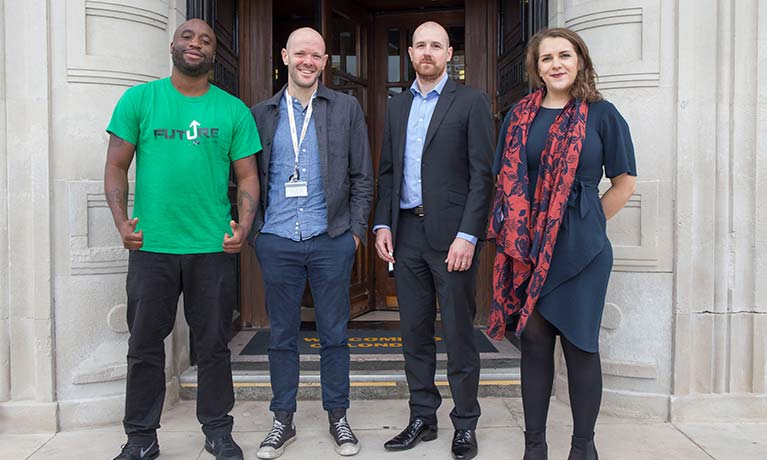 Campus news / Business news
---
news
Tuesday 25 September 2018
Press contact
---
Three groups striving to improve education, social inclusion and leisure activities for people young and old in Barking and Dagenham have taken up working space at CU London.
Participatory City, Barking and Dagenham School Improvement Partnership (BDSIP) and Future Youth Zone now all have a base at the former Dagenham Civic Centre, which has been the home of CU London for one year.
Each of the three groups have taken up office space after meeting with CU London associate pro vice chancellor Andy Ginn, who is keen to link up with the good work each does for different areas of the community.
BDSIP delivers a broad range of services, including school improvement, inclusion, careers guidance and work experience to youngsters.
We initially engaged with CU London through partnership conversations with Andy Ginn, where it quickly became apparent that there were real synergies between the educational and social values of our organisations.

We're delighted to be located in this beautifully restored building and look forward to working even more closely with CU London in the future.

Ben Spinks, Chief Executive with BDSIP
Participatory City is working with local residents to create neighbourhood activities, projects and businesses with the aim of improving the overall wellbeing of local people.
CU London is based just round the corner from the planned site of its Makerspace Participatory Warehouse which is due to open in 2019.
Being on site at CU London brings huge potential for us to work together with the University and local residents networks we are building in neighbourhoods across the borough.

Tessy Britton, Participatory City CEO
The £6.5million Future Youth Zone is being developed by the national charity OnSide and will provide young people in Barking and Dagenham with over 20 activities every evening from sports to music and arts to enterprise and employability opportunities.
Building work is ongoing at the site on Parsloes Park in Dagenham and the Youth Zone staff will use CU London as a base until that is completed early next year.
We are delighted to partner with CU London and to be located at this fantastic building. It provides us with a great platform to grow before we move into our new home.

Gavin Evans, Future Youth Zone CEO
Since we began our journey at the former Civic Centre, we have strived to ensure that this landmark building remains at the heart of the local community as we discover exciting and relevant ways to bring our civic mission and values to life.

This is another positive step towards doing that, as each of these three groups are working to make a positive difference for people of all ages in Barking and Dagenham.

We believe that by creating these links now, we can work alongside the groups to help build a joined-up approach to education and inclusion across Barking and Dagenham for years to come.

Andy Ginn, CU London's Associate Pro Vice Chancellor