CU London launches new campus in Greenwich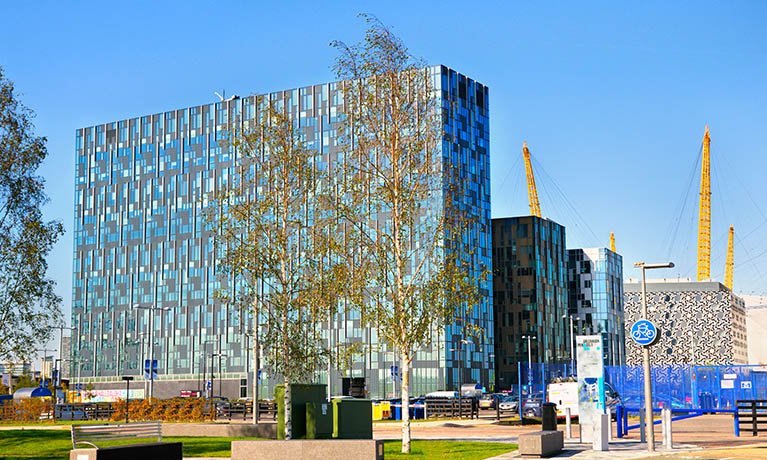 ---
Monday 14 September 2020
Press contact
---
CU London, part of the Coventry University Group, has announced plans to launch a new, contemporary campus in Greenwich to support its students.
CU London, which already has a campus based in Dagenham, is planning to open the new campus in the heart of Greenwich Peninsula, across three floors of the 6 Mitre Passage building.
Work is set to begin on the site, which is due to open this autumn, and will feature modern study areas as well as open-plan breakout spaces and a library.
It will be known as CU London (Greenwich), and is due to replace a temporary campus which supported students affected by the closure of the Greenwich School of Management last year.
IDL Architecture is designing the campus, with Jonathan Richard Associates appointed to undertake the building services, and PL Developments and Envirotech Building Services undertaking the construction work.
As well as becoming a new home for existing students, it is planned for CU London (Greenwich) to take applications from new students across four subjects - Business Management and Leadership, Law and Practice, Tourism and Hospitality Management, and Oil, Gas and Energy Management. A Business Foundation programme that will provide an entry route to any of the above degree programmes for students without sufficient qualifications to go directly into a degree is also planned.
The courses at CU London (Greenwich) will offer a condensed, fixed timetable so that students can fit classes around other commitments such as work or childcare.
Students will study one module at a time across continuous 6-week blocks and will have assessments throughout such as coursework rather than end of year exams.
Andy Ginn, Associate Pro-Vice Chancellor at CU London, said: "We are extremely pleased to announce the planned launch of our new campus.
"When the news of GSM's administration emerged last year we knew we had to help those students affected, so we initially gave them the chance to continue their studies with us at a temporary campus.
"However, we have since been working to establish a permanent campus where they can continue their studies with us and where we can also welcome new students.
"This new campus is designed to be a modern, contemporary learning space in a fantastic location just a three-minute walk from North Greenwich tube station. It's close to the O2 Arena as well as a variety of cafes, shops and leisure facilities.
"Students joining the new campus will have access to Customer Services and Student Support teams that provide support throughout their studies and also a Talent Team that provides careers, work experience and employability services to help students unlock opportunities while they are studying and after graduation.
"We understand that work and family commitments can often mean that not everyone can commit to a traditional full-time degree, so our flexible learning model aims to make higher education more accessible to a wide range of people.
"We look forward to progressing our plans so that we can welcome returning and new students to Greenwich Peninsula as soon as possible."
CU London was launched in 2017 at the former Dagenham Civic Centre. Coventry University Group also has campuses in Coventry and Scarborough.
More information about the plans for CU London (Greenwich) and the courses can be found by visiting CU London.