Barking and Dagenham secure Mayor's Cultural Impact Award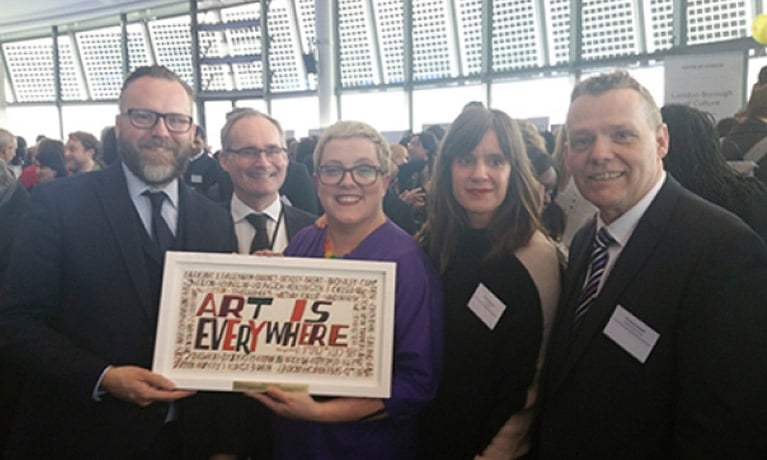 ---
news
Thursday 01 March 2018
Press contact
---
Barking and Dagenham were left celebrating a major milestone after receiving the Mayor's Cultural Impact Award at the London Borough of Culture awards on Tuesday.
Despite missing out on the big Borough of Culture prizes for 2019 and 2020, Barking and Dagenham still had plenty of reason to celebrate after the impressive New Town Culture project won £160,000 funding from Sadiq Khan.
The council joined five other boroughs – Camden, Kingston, Lambeth, Lewisham and Merton – in receiving the accolade for artistic and cultural projects in their respective boroughs.
Working with the Foundling Museum, children's author Jacqueline Wilson and artist Grayson Perry, Barking's collaborative project takes arts and culture initiatives into children's care homes across the borough.
We are a unique borough and the time is right for Barking and Dagenham to make a commitment to the role of culture in every aspect of life in the borough. Culture helps our economy by creating jobs and supporting young people to realise their potential. It strengthens the distinctive identity of our borough.
The Mayor was quick to extend his congratulations to Barking and Dagenham and hopes the project will embed cultural activity into social care in the borough.
Culture can have a hugely powerful impact on people's health and wellbeing, which is why I'm delighted to support Barking and Dagenham's creative project, which embeds cultural activity in social care – working with looked-after children and care leavers.
Celebrating, promoting and strengthening cultural diversity, health and wellbeing is what the UK's highest ranking new university is bringing to the education, training and skills needs of Barking and Dagenham.