Graduate's life-changing experience at CU Coventry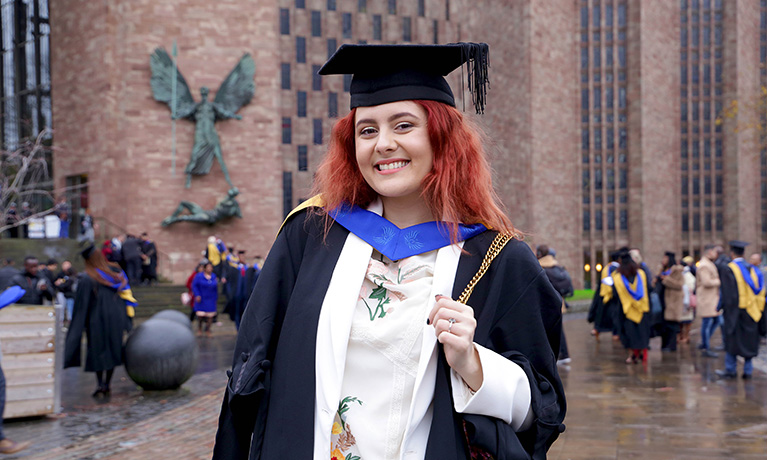 ---
Monday 02 December 2019
Press contact
---
An international Tourism & Hospitality Management BA (Hons) graduate says her "life-changing" experience at CU Coventry has put any feelings of wanderlust on hold – for a year at least.
Elena Alexandra Miron arrived in Coventry in 2015 from Romania, having chosen CU Coventry, part of the Coventry University Group, over several high-profile universities in the UK.
Now Elena, who recently graduated along with 174 students, has decided to remain in Coventry for another year to study for a Master's in International Law, Diplomacy and Global Change.
I was accepted in all five universities that I applied for but CU Coventry was something special and I can't wait to continue my studies here.

I did some research on the academic programme on offer, the culture of CU Coventry and the accommodation options available to students, and decided immediately that this was the place for me.

It was really important that I had the opportunity to apply the skills I was learning in an internship. Through CU Coventry, I was able to spend a year abroad in the US – six months in Florida and six months in New York. It was a life-changing experience.

After my year abroad, I had to deliver a series of presentations to people about my experience and why I found it so worthwhile. I couldn't recommend it to them highly enough!

Elena Alexandra Miron, CU Coventry graduate
Since starting her degree in 2015, Elena, who was recently elected as Sustainability Community Officer for the CU Coventry Student Union, gained knowledge in all areas of tourism and hospitality, and has also developed a variety of new skills.
Elena said: "My English has improved significantly which enabled me to integrate quickly in the programme. I have also worked closely with business mentors and have acquired a range of transferable skills.
"Above all, I have met so many wonderful people during my time at Coventry and I'm looking forward to doing it all over again."
Elena is a shining example of the quality of students that CU Coventry is able to attract.

Our first-rate Mile Lane campus, coupled with a rich academic programme provides students with the perfect learning environment.

I am delighted for all of the students who have graduated today and I, along with everyone associated with CU Coventry, wish them well as they start the next chapter of their lives.

Jackie Mathers, Associate Pro-Vice-Chancellor at CU Coventry