Cultural Carnival showcases talent of tourism students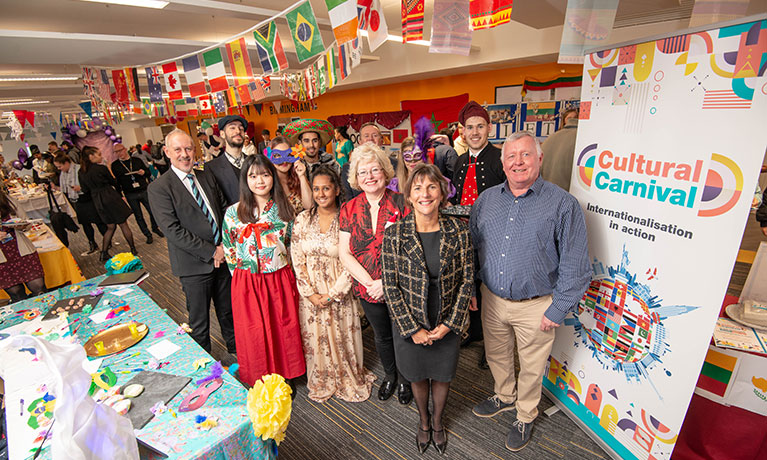 Degree news / Student news
---
news
Monday 06 January 2020
Press contact
---
A 'Cultural Carnival' of culinary concoctions and colourful costumes was celebrated by students and staff at CU Coventry.
Third year students taking BA (Hons) Tourism & Hospitality Management showcased the finest food, drink, costumes and cultures from countries around the world during a two-day event at CU Coventry's Mile Lane campus.
Students set up stalls showing cultures from all sorts of different countries, including Brazil, South Korea, Mexico and Lithuania.
The event was all part of a practical assignment for the students, which tested their ability to organise and promote a large event.
Student Simun Wolles, based his stall on his home in the Faroe Islands, which lie far to the north of Scotland.
Many staff and students enjoyed sampling Faroese salmon, and some even treated themselves to a shot of akvavit – produced especially in the Faroe Islands.
I have really enjoyed the Tourism and Hospitality course here at CU Coventry – I'm definitely a people person so I felt it was perfect for me.

Coming to Coventry was a big step for me – most students from the Faroe Islands head over to Denmark.

I shouldn't have worried. Although I only applied for a one-year course here to begin with, I loved it so much I wanted to stay and complete the full three years.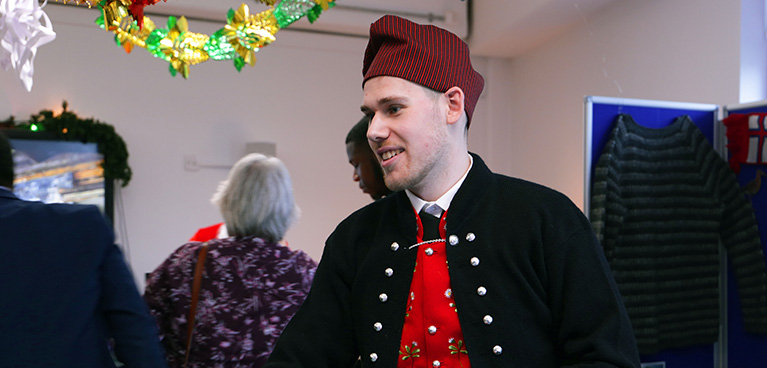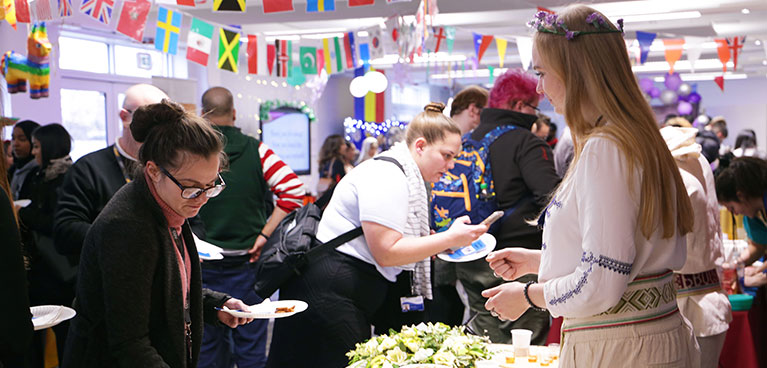 The students were visited by Helen Peters, Chief Executive of Shakespeare's England and the chair of the Coventry and Warwickshire Local Enterprise Partnership's Culture and Tourism business group.
This is a fantastic initiative set up by the students here, and it bodes so well for tourism in our region.

I was very impressed to hear that this is the second-most successful tourism management course in the country – and I can see why now that I've visited.

Improving our tourism offer in the coming years will be crucial to the region and is a key element of the work of the CWLEP. These students are key to the future success of the industry.
And Marion Greenhalgh, Tourism and Hospitality Course Leader, said this project meant students were able to demonstrate both practical skills and academic knowledge within a meaningful assessment.
Although this was a fun event for everyone at CU Coventry to enjoy, our students had to apply event management practice to meet the needs of the audience and their assessment.

Internationalisation is a key pillar of CU Coventry's corporate strategy and events such as this clearly demonstrate that we take the subject and its application seriously but they also allow us to celebrate the diversity of our students and organisation.

All the students successfully combined a range of business skills to produce a wonderful Cultural Carnival, and having Helen here to see what our students can do made for a very positive and entertaining experience.