Meet the Team
Our Careers Zone team has a number of specialists allocated to each of our subject areas. Other members of the team are responsible for working with students or employers and running our range of careers events.
Contact the team
Monday to Friday 9am - 4pm
CU Coventry, Mile Lane, Coventry CV1 2TU
talk. 02477 659 678
write. careers.cuc@coventry.ac.uk
Aysha - Careers Zone Manager
My aim is to assist all undergraduates with developing employability skills and gaining long term sustainable employment. Being equipped with several years experience within the careers and employability sector within a variety of industries enables me to bring forth a range of skills to support undergraduates studying at CU Coventry.
Andre - Employability Consultant
I'm a people person who is willing to help and support a cause in which I have passion or belief, such as supporting students. I work closely with employers to provide suitable opportunities for our Management & Leadership, Tourism & Hospitality, Law, Policing and Marketing & PR students to demonstrate their capabilities and knowledge.
Shem - Employability Consultant
My objective is to support all students with their vital employability skills necessary to compete in today's job market. I will be working particularly closely with students that study Accounting, Finance, Engineering and Digital Technologies.
Micky - Employability Consultant
My main experience has been in matching and placing candidates with employers. I lead our new business development and provide employability coaching to help undergraduates with their careers in Health & Life Sciences, Health & Social Care and Early Childhood Learning & Development.
Sufyan - Employment Engagement Officer
Having worked within the Careers and Recruitment industry for over seven years, I have a wealth of experience and knowledge in supporting people to find their ideal career. My objective is to engage with employers to source a wide range of opportunities for our students from part-time work experience placements to graduate schemes.
Caroline -
Employability Administrator
As a recent graduate, I am aware of how competitive the job market is and part of my role is to contact students regarding any jobs available that may interest them or track the progress of their job applications. I also book students in for the mentoring scheme and appointments.
Tauqeer - Student Engagement Assistant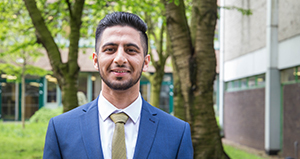 I manage the mentoring scheme by sourcing and matching mentors with mentees who will support our students with their career development. I support the careers team with research, contacting alumni, and liaising with employers, academic staff and students regarding graduate and placement opportunities.