Careers Zone for Employers
Our Students - Your Workforce
CU Coventry Careers Zone is a single point of access that allows students, academics, careers staff and employers to successfully connect and work in partnership.
We are committed to working closely with employers locally, nationally and internationally to help build successful relationships between employers and CUC students and to build a strong workforce that is beneficial to the local region, UK and countries worldwide.
Our Careers Services
Placements and Employment
Are you an employer who wants to bring new skills or experience into your workforce? We offer a careers-based service that will allow your organisation to successfully recruit CU Coventry students through a variety of channels and raise your company profile. We are a team of experienced careers professionals and can tailor your recruitment campaign to your individual requirements. Careers Zone will advertise your vacancies, prescreen and shortlist, allowing us to take the burden of your recruitment.

The wealth of talent available at CU Coventry allows us to seamlessly provide you with the high quality, well matched candidates for employment, internships and placement opportunities beneficial to your business. This is a free service for all employers, agencies and organisations who are seeking candidates for all level positions.
Careers Fairs
The CU Coventry Careers Fair is a great way to advertise your opportunities, raise brand awareness, develop connections, interview the future workforce and network with other corporations. They provide students with the chance to meet a variety of organisations offering graduate employment, internships and work experience placements. You can gain access to a large number of candidates who are educated and have gained a qualification or who are working towards a qualification in a specific subject area.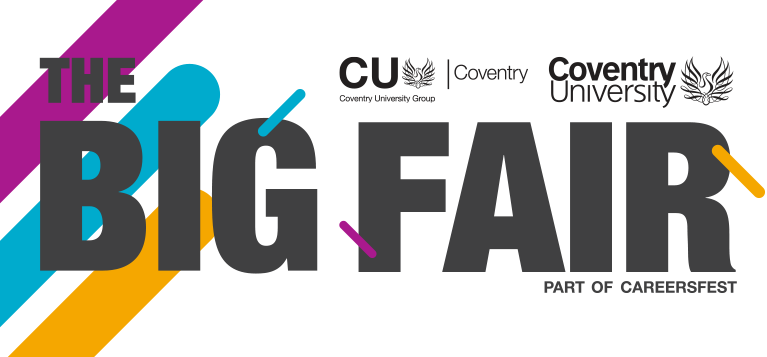 We hold The Big Fair every October at Coventry University, TheHub and Square One. If you are an employer or organisation interested in exhibiting at this event, please email the team at careers.cuc@coventry.ac.uk and we will be able to contact you with more information.
Employer-led Talks
Why not increase brand awareness and raise your company profile by meeting the future workforce and gaining a better understanding of the graduate market. ELTs usually last about an hour and can consist of:
Employer presentation – provide an opportunity to show what it's like working for a top company and give an insight into the different roles available within your sector.
Interview session – showcase any employment and placement opportunities available within your company and interview potential candidates.
Employability skills workshop – provide students with advice and guidance, by completing a CV workshop relating to your sector.
We work closely with student unions, student societies, events and academic departments and can effectively promote your company and allow you to create a presence on campus, attracting students to your organisation.
Employer-led Projects
Employer-led projects offer students the opportunity to work on real life company projects and develop technical, practical and research skills.
As an employer you will be involved in the brief of the project but will allow the student to complete the project, thus developing employability skills such as problem solving, time management, organisation, team working, leadership and communication skills. They allow employers to develop relationships with students and provide a chance to spot future talent.
Our Mentoring Scheme
Mentoring is where one person shares their knowledge, skills and experience to help another progress in their career. Mentoring is more than just giving advice, it's about motivating, empowering and helping individuals to understand their true potential, to help them achieve their goals within a confidential and supportive environment.
A mentor's role is to support the mentee in deepening their own development needs, to guide them to reach solutions when faced with barriers to success and to provide opportunities to ask questions and receive support.
The mentee's role is to manage the relationship; it is essential that the mentee outlines to their mentor what they would like to achieve from the mentoring scheme and to remain proactive throughout.
The objective of the scheme is for both the mentor and mentee to gain awareness and develop new skills.
Benefits for Mentors
Sharing your experience and expertise.
Developing support and leadership skills.
Challenging yourself and building a new relationship by working towards a mutual goal.
Helping others as well as giving something back.
Increasing networking and contact sharing opportunities.