Tickets
All students wishing to attend the ceremony must register as soon as possible. It is only possible to attend the ceremony allocated to your course.
Everything you need to book is on the Ede & Ravenscroft website. This includes your ticket, guest tickets, gown and photography services.
Graduand tickets are FREE and guest tickets cost £25 each.
*Please note that registration is not confirmation that you can definitely attend. Only once you have received your results on Solar will your place be confirmed.
Terms of sale of guest tickets
Each graduand is guaranteed two guest tickets, provided these are claimed by the registration deadline. Please check your emails for details of the deadline.
Any unclaimed tickets will be released and sold to other students as extra tickets, on a first-come, first-served basis. You will be notified via email if extra tickets become available.
Tickets are non-transferrable.
If you find you are no longer eligible to graduate, we will fully refund any guest tickets already purchased, as long as you email graduation.culc@coventry.ac.uk by the refund deadline specified by the Graduation Team (via email).
All payment enquiries are to be dealt with via Ede and Ravenscroft.
Should you have any issues with booking tickets, please contact Ede & Ravenscroft Customer Services on +44 (0)1223 734 759. We do not have the ability to provide support with the Ede & Ravenscroft website.
Important things to remember:
On the day, please head to the Guildhall Art Gallery entrance (entrance F on the below map)
All tickets must be collected from the Guildhall registration desk on the day of Graduation. Please ensure you bring your student ID, as you'll need this to collect your tickets.
Only guests that have been pre-registered and pre-paid by the graduand will be able to attend the ceremony.
If support is needed for guests/students with disabilities, please contact the Graduation Team on 020 7247 3666 or graduation@culc.coventry.ac.uk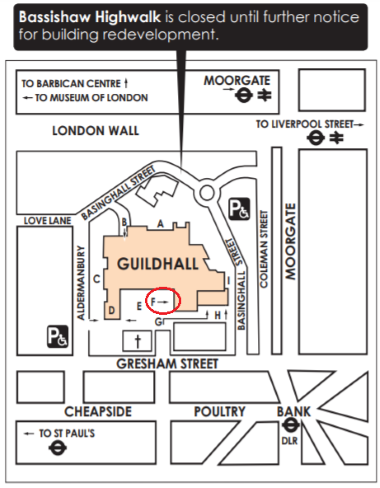 ---
Visa Assistance for your Guests
Some nationals do not require a visa to visit the United Kingdom, such as the European Union, the United States, Canada, Australia, Japan, Korea and most of the South American countries. To check whether or not you or your guests require a visa, please visit the UK Home Office website.
If your guests require visas in order to attend a graduation ceremony, you may request a graduation invitation letter from the Student Information Desk.
You may also request a graduation confirmation letter to assist your re-entry into the UK if you are outside the UK by sending your request to the Student Information Desk also.