MBA students attend key networking event
Publication Year / 2013 / Categories / Business
---
Thursday 03 October 2013
Press contact
---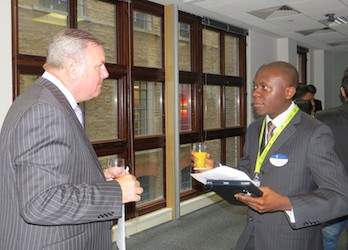 Coventry University London Campus MBA students were given the unique opportunity to attend a dedicated networking event run in September by Docklands Business Club and East London Chamber's, Time to Talk Business. This event attracted over 30 local companies and their respective delegates giving our students the opportunity to network and build great working relationships directly with industry experts.
Docklands Business Club has actively supported the east London business community for over 25 years. It combines with the East London Chamber of Commerce to form the Thames Gateway branch of London Chamber of Commerce - the largest business support organisation in the capital.
Shamus Mahmood, Internet Marketing Consultant for REACHLOCAL UK commented on the event, saying:
Networking is a crucial part of business development. These events allow members within industry to network and build instant relationships face to face. Coming to Coventry University London Campus has been very useful, as the campus has created a pool of future talent for industry experts to network with.