London Campus First Year Law Students Celebrate Victory at Law Competition
Publication Year / 2014 / Categories / Achievement / Student
---
Wednesday 26 February 2014
Press contact
---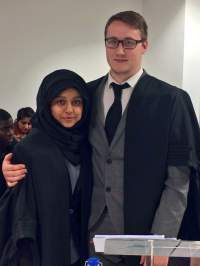 William Gibbens and Muneeba Ahmed, two first year undergraduate law students at Coventry University London Campus, won the first round of the UH/Blackstone's National Criminal Advocacy Competition 2014 against the University of Hertfordshire.
William and Muneeba appeared as prosecuting counsel in the Crown Court at Coventry University London Campus to make and oppose pre-trial applications on hearsay and bad character in the (fictional) case of R v Peter Brody. They were drawn against the University of Hertfordshire and competed against two mature students (one of whom was a final year law undergraduate and the other a police officer). The trial was presided over by Mr Angelo Power, an experienced criminal barrister from 2 Bedford Row of 12 years call who has defended in a wide range of criminal cases.
The judge was particularly impressed by the quality and level of William and Muneeba's research, and the fact that they have only been studying law for four months. Beating two mature students is testament to the quality and dedication of our students as well as the level of preparation and professionalism in our LLB students. Judge Power was so impressed by their performance that he has invited them to the Old Bailey to watch a case that he is appearing in.
The university will compete at Hertfordshire next; where William and Muneeba will be acting as counsel in a full trial.
Dr Sonya Fernandez, Head of Law, said:
We at Coventry University London Campus Law are extremely proud of what Muneeba and William have accomplished after only a short time here. Their hard work, effort and dedication are clearly reflected not only in their win, but in the judge's heavy praise and recognition of their quality and skill. I am confident that they will go on to great things.