New Head of Academic Studies appointed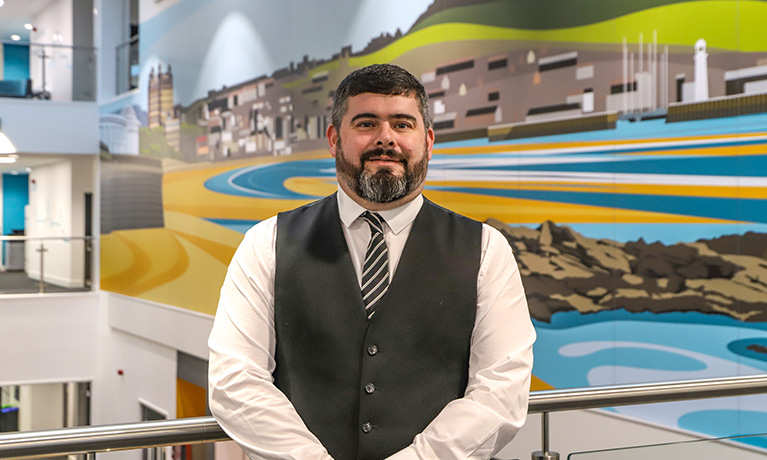 ---
Monday 06 January 2020
Press contact
---
A newly-appointed top academic at CU Scarborough has outlined his vision to continue to provide a first-class service for students in and around the Yorkshire Coast.
Mathew Butterworth has been appointed as the new Head of Academic Studies at CU Scarborough – part of the Coventry University Group – with ten years' experience in higher education.
A former health and social care project manager and tutor at CU Scarborough, Mathew is aiming to boost employability prospects for all CU Scarborough graduates and to attract more students from Yorkshire and beyond to benefit from its unique model of higher education.
I'm really excited to start this new role and carry on the outstanding work that the CU Scarborough team is doing for all of its students.

I'll look to nurture the strong partnerships we have with local employers, such as the NHS and Everyone Active, and to create new opportunities for further partnerships.

Attracting more students who live in the region, as well as international students, to come and study at CU Scarborough is another key priority for me.

I am committed to supporting the tremendous work being done here at CU Scarborough while looking for other opportunities to grow the curriculum and enhance the experiences of our students and our academic staff.
Mathew, who is in the closing stages of his PhD at Leeds Beckett University, joined CU Scarborough just over a year ago before being appointed as Head of Academic Studies.
And he is already hard at work overseeing a collaborative project which aims to improve graduate outcomes for Health and Social Care students in Scarborough and along the North Yorkshire Coast.
The project was made possible thanks to CU Scarborough successfully applying for funding from the Office for Students.
Mathew and his team will regularly collect data from students taking the course over the next three years, and will use the information to assess whether to apply for funding for all of CU Scarborough's courses.
He added: "It will be clear relatively quickly whether the extra funding has had tangible benefits for our students as we will be assessing student outcomes throughout the project.
"We're always looking to improve what we offer to our students, and this first project is just one of the ways we are actively finding ways to do so."
I am really excited to have such an excellent colleague in Mathew who will stimulate growth, inspire our future leaders to achieve great things and boost the local economy.

He has a wealth of experience in teaching, leadership and management, and in project management and we look forward to seeing the positive impact he will have at CU Scarborough.