Rugby World Cup winner and CU Scarborough Honorary Doctorate Maggie Alphonsi's inspirational graduation message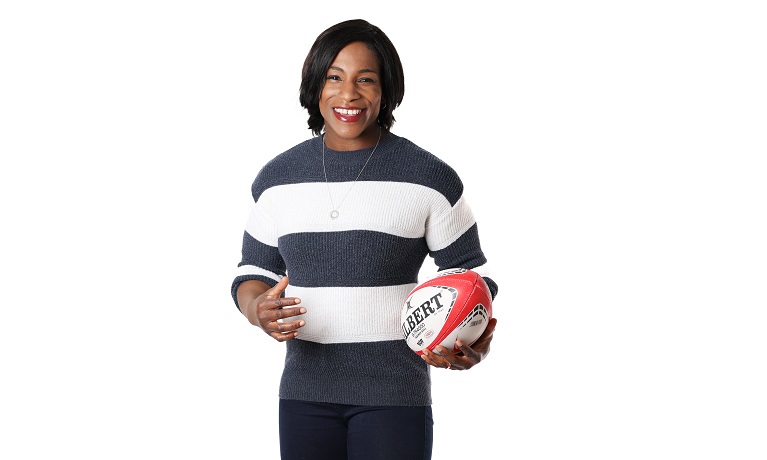 Degree news / Campus news / Student news
---
Friday 29 September 2023
Press contact
---
Rugby World Cup winner Maggie Alphonsi MBE has shared a motivational message to graduating students that could also serve as inspiration to an England men's side that have secured a spot in the quarter-finals.
Maggie is part of the ITV Sport team covering the 2023 Rugby World Cup in France and is being honoured alongside 170 graduating students with an Honorary Doctorate from CU Scarborough, part of Coventry University Group, on Wednesday (October 4) at Scarborough Spa.
The former England and Saracens flanker, who secured a spot in the World Rugby Hall of Fame after picking up her rugby union World Cup winner's medal in 2014, has shared her advice for the class of 2023 - words that might also resonate with an England side that are far from favourites to lift the trophy.
Be comfortable being uncomfortable and if it doesn't challenge you, it won't change you.

I aim to live my life like this now. Don't be afraid to challenge yourself and I promise you, you won't regret it.

Rugby World Cup winner Maggie Alphonsi
Maggie, who grew up on a council estate in North London and became the first England Women's player on the Rugby Football Union's (RFU) Council, specialising in diversity and inclusion, has future ambitions of becoming president of the Rugby Football Union.
She is an ambassador for several charities including Sporting Equals, Steps and Looseheads and will receive an Honorary Degree of Doctor of Science from CU Scarborough for her significant contribution to sport and related charities.
To be recognised for my achievements in rugby and for my charitable work means a lot.

When I started playing rugby, I never thought I would make it this far but it has changed my life for the good and to be given an Honorary Doctorate for that is very special.

The best piece of advice that I have received during my career is that there is no such thing as weaknesses, only underdone strengths. Lead with your strengths and believe in you and your potential."My message to CU Scarborough students is to step out of your comfort zone, embrace the process of learning and don't fear failure.

I had to be driven in pursuit of my goals and stay true to my values and not be deterred.

Every obstacle that you reach in life is an opportunity to grow, but you can only grow if you are willing to challenge yourself. Failure breeds success.

Rugby World Cup winner Maggie Alphonsi
I hope all of our students take inspiration from Maggie, a pioneer who has not only had a huge impact on the women's game but has also made a difference off the pitch with her charitable work.

To me, Maggie epitomises CU Scarborough's mission of Creating Better Futures and shares our values.

Especially our work on diversity and inclusion to embrace different cultures, abilities, and life experiences, how we are removing barriers that can prevent entry to higher education by making education accessible to all who can benefit, and to drive everyday collaboration and connectivity between our students, our people, and our communities.

At graduation, we celebrate Maggie and the achievements of our students. It is also a day to share our hopes that the skills our students have learnt will help them follow in Maggie's footsteps and go on to drive global change, become leaders in their chosen field and make a difference in their communities and beyond.

CU Scarborough Associate Pro-Vice-Chancellor Jackie Mathers
Discover more about CU Scarborough