Ground is broken in preparation for £14m purpose-built campus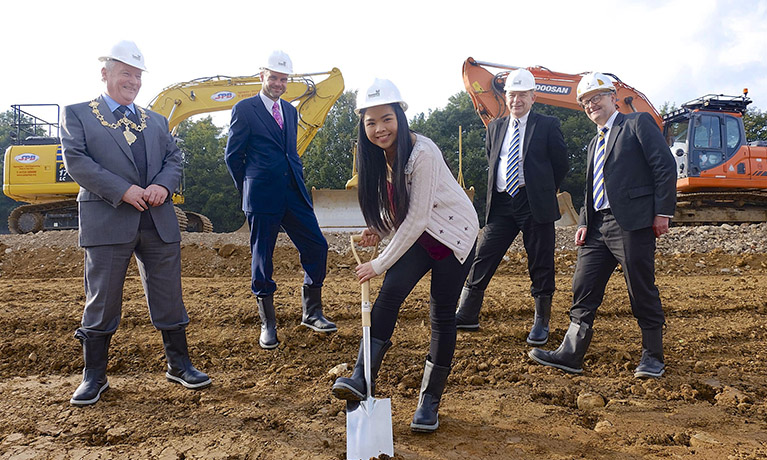 ---
news
Friday 09 October 2015
Press contact
---
The first sod in a "new educational future for Scarborough" has been turned as work has begun on Coventry University's £14 million campus building in the town.
Coventry University Scarborough Campus opened just last month welcoming its first students in a range of courses at Scarborough Spa – but from next year they will move to the new state-of-the-art complex at the Weaponness site.
Chananya Kleaklom, from Scarborough, who is studying on the Early Childhood Development and Learning programme, was chosen to start the construction work which is being undertaken by Willmott Dixon.
She was joined by Mayor of the Borough of Scarborough Cllr Tom Fox, Vice-chancellor of Coventry University Professor John Latham, Provost of Coventry University Scarborough Campus Professor Craig Gaskell, and Anthony Dillon, Managing Director for Willmott Dixon in Yorkshire.
Coventry University has recently been named 'Modern University of the Year' for an unprecedented third time in a row in the Times and Sunday Times Good University Guide 2016. The guide's judges commended Coventry's innovative approach to higher education, highlighting Scarborough Campus as a unique and particularly forward-looking development in the sector.
Coventry University Scarborough Campus is bringing a new era in higher education to the region, with the focus on making it more accessible, flexible and affordable to meet the lifestyle and career aspirations of modern learners.
This is a massively important project for Coventry University, Scarborough and the regional economy. This may be the start of work on a physical building but the establishment of the new campus in the beginning of a huge opportunity.

It will bring transformational economic and social impact by enhancing the education, skills and career prospects of local people, but, as the student numbers grow, it will bring an increasingly positive economic impact on the town.

We have had great support from Scarborough Borough Council, the local business community and other stakeholders who see long-term value in the project and are equally excited about the positive impact it will have.

Our students are already enrolled and on their courses, and Chananya is one who will move across next academic year to this complex and complete her studies in the best possible environment.

Professor John Latham
Coventry University Scarborough Campus will be part of the £50M Sports and Education Campus on the town's old Weaponness Park and Ride site.
I am delighted to be able to mark the official start of the construction of the new campus for Coventry University Scarborough Campus. A massive amount of ambition and hard work has led to today; an inspirational example of the public and private sectors working together to develop a new centre for world class education on the Yorkshire coast.

Students are already benefiting from the university's high quality and specialist education in existing town centre venues and they can look forward with pride to moving into state of the art learning and living accommodation in autumn 2016.

Backed by local businesses that are committed to raising the skills levels of the employees of the future, the campus will be a fundamental part of the growth of the area's economy from now on.

It will have wider benefits for the town, borough and Yorkshire region in terms of job creation, supplier businesses and student spend. Above all, Scarborough will be able to create its very own young business talent ready to feed into existing and future industries, which is a hugely exciting prospect.

Councillor Tom Fox
We have a proud track record in Yorkshire, which is evident in nearby Beverley where our mixed-use development in the town centre is creating jobs and bringing inward investment.

We are delighted to be continuing this in Scarborough by creating the new Coventry University Scarborough Campus and like all our projects, the focus will be on how we support the local economy by using companies from around Scarborough as much as possible to carry out work packages.

Anthony Dillon, Managing Director for Willmott Dixon in Yorkshire