CU Scarborough sponsors local sixth form college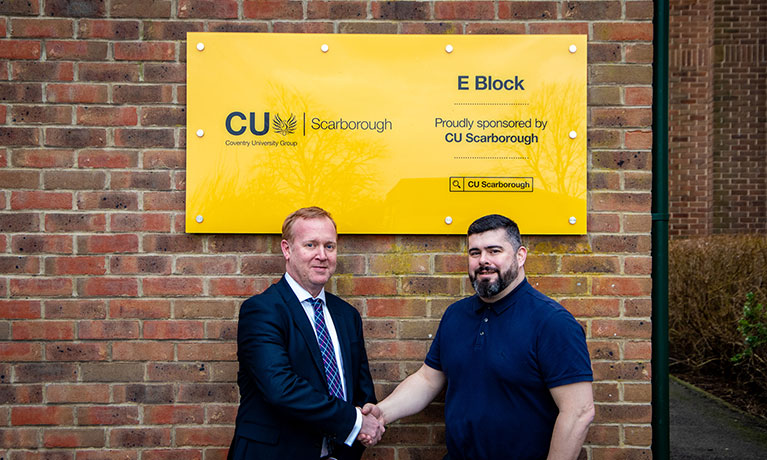 Campus news / Business news
---
news
Wednesday 12 February 2020
Press contact
---
Students at Scarborough Sixth Form College will be able to use state-of-the-art equipment in brand new teaching facilities thanks to exclusive sponsorship from CU Scarborough.
The money provided by CU Scarborough – part of the Coventry University Group - in its three-year-deal with the sixth form college will go towards brand new hospital equipment in its Care Room, used for teaching healthcare courses, and cutting-edge kit in its IT Suite, used to teach cyber security and computing.
In return, the entrance on the sixth form's E-block, where the two rooms are located, has a plaque reading: 'Proudly sponsored by CU Scarborough'.
And as part of the deal, academics from the university will head over to the college to give lectures and masterclasses in subjects such as Cyber Security, Computer Science, Health and Social Care, and Nursing.
The partnership also allows sixth formers to attend 'taster days' at CU Scarborough to experience what a university-level education is like.
CU Scarborough's sponsorship of our new rooms within E-block will be hugely beneficial to our students.

It is crucial that our students have access to the best equipment possible while they study, and the money provided by CU Scarborough will allow us to enhance what we can offer.

It's fantastic that CU Scarborough's lecturers will come over and give our students a taste of what higher education is like.

This is an exciting time to be a student in Scarborough, and we are looking forward to working further with CU Scarborough to improve outcomes for young people in our town.

Phil Rumsey, Principal and CEO of Scarborough Sixth Form College
Scarborough Sixth Form College is a hugely important partner of CU Scarborough, so we are very pleased to have helped enhance its students' education by contributing to brand new equipment.

We want to show sixth-formers who are taking subjects relating to healthcare or IT that they do not have to move away to study a high-quality degree – CU Scarborough offers courses in both topics with excellent employability prospects upon graduation.

This partnership is all about helping young people progress within Scarborough. The town and the surrounding areas need skilled workers in the near future, and helping give young people the tools they need to succeed will allow Scarborough and the Yorkshire Coast to thrive.

Mathew Butterworth, Head of Academic Studies at CU Scarborough