CU Scarborough nurses ready to tackle Coronavirus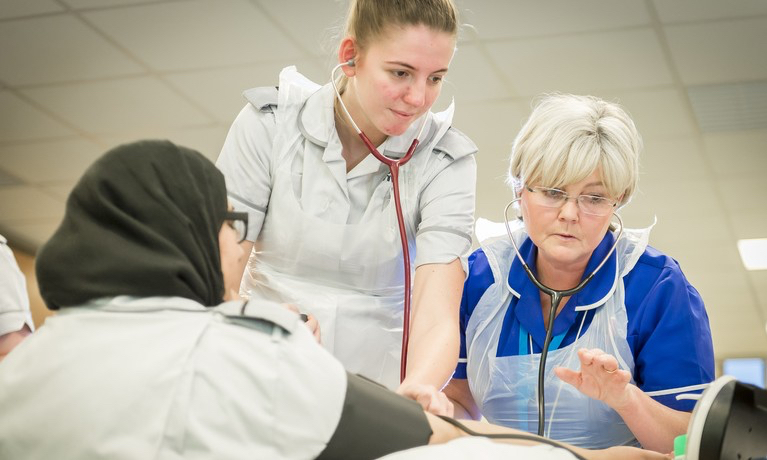 ---
Monday 06 April 2020
Press contact
---
Nursing students and staff at CU Scarborough will be joining frontline NHS staff at Scarborough Hospital to bolster numbers in the fight against COVID-19.
A dozen second-year student nurses from the Scarborough campus will join the effort and are currently awaiting details of when they will be needed.
One of those is Lucy England, a second-year student, who is expecting to be helping on the wards next week.
She was due to start her original placement at the hospital two weeks ago but that got cancelled due to the Coronavirus outbreak, but when the hospital called for students to join the team as nursing support staff she and many others jumped at the chance.
I cannot wait to join the workforce in my local hospital and utilise the skills I have learnt over the last year and a half as a student nurse.

During my training I have worked alongside many amazing nurses and having the opportunity to give something back was not something I could pass on.

Being able to work as part of the amazing team at Scarborough Hospital will be a part of my career I will not forget in years to come.

Lucy England, Nursing student at CU Scarborough
CU Scarborough has deep links with the NHS in the area and trains nurses in a region where the NHS has struggled to recruit.
The student nurses will be working four days at the hospital and then spend one day a week on their academic studies, as part of their course and placement.
Also joining them at Scarborough Hospital will be one of their tutors, Dr Janet Wilson, who will be returning to work as a nurse in addition to her role at the Scarborough campus.
Janet will bring a wealth of experience to the table, having spent many years working at Northern General Hospital in Sheffield, before moving into teaching in 2008.
Along with reinforcements to the workforce, donations of Personal Protective Equipment (PPE) to frontline workers in the local area are to be made from the stock at CU Scarborough, which will help staff tackling the Coronavirus outbreak at both Scarborough Hospital and St Catherine's, a palliative care hospice in the town.
Claire Barwick, Head of Curriculum of Health, Education and Nursing at CU Scarborough said: "Scarborough Hospital needs our support at the moment. Our stock would just be sitting in training rooms otherwise, so it's better to get it out there so it can be put to use helping people."
Clinical wipes, boxes of gloves, aprons and safety masks have been set aside for donation and will be distributed to the two sites based on their needs.