Cyber security experts call on Scarborough residents to learn how to protect themselves from digital criminals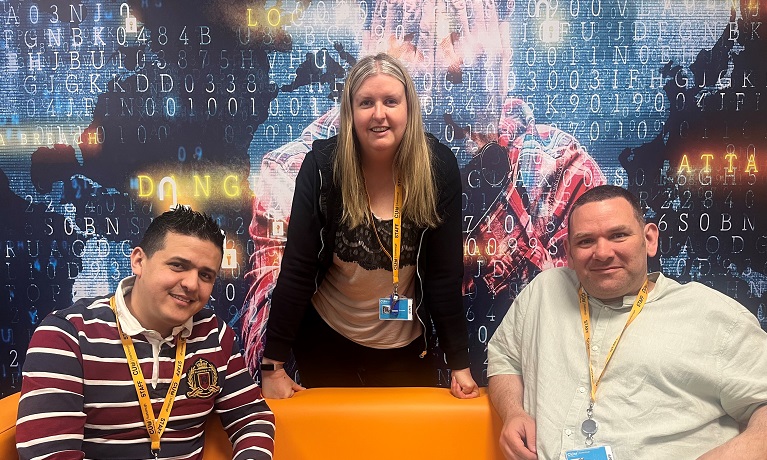 ---
Friday 30 June 2023
Press contact
---
Cyber security experts from CU Scarborough - part of Coventry University Group - will share the tricks of their trade in a bid to help the people in the town equip themselves with 'digital armour' that can help safeguard them from scammers.
Government data released in 2022 revealed half of adults in England and Wales reported receiving a "phishing" message in the previous month. The Crime Survey of England and Wales also revealed adults aged 25 to 44 are most likely to be targeted by criminals using scam emails, text messages or phone calls.
Now experts from the Cyber Security BSc Hons degree course at CU Scarborough have created a free interactive workshop called Digital Armour: Safeguarding Your Online World that is designed to give people an opportunity to learn practical strategies to protect themselves, their devices and online identities from cyber threats.
The workshop is open to the public and starts at 11am on Monday 3 July at CU Scarborough's Ashburn Road base and marks the launch of Cyber by The Sea.
The aim of the Digital Armour event is to demystify the cyber world, raise awareness of cyber security and help people unlock the secrets of digital armour. People invest in CCTV cameras to protect their physical belongings, but they might be leaving themselves open to theft if they have not also protected their online world.

We want to show people how to elevate their home network security, how to safeguard their smart devices, learn about the dark world of AI-driven message scams and how to spot and protect yourself from them, and share practical tools and tips that can empower people with limited digital knowledge. We want to help keep the people of Scarborough safe online.

Camilla Stevenson, CU Scarborough cyber security tutor
The workshop is followed by a free afternoon conference called Scarborough, A Cyber Future, that is open to the public and aimed at helping businesses discover how they can benefit from the growing cyber industry in the area.
Our aim as a higher education provider is to create better futures, not just for our students, but for the wider area. We are working to do this by collaborating with stakeholders such as North Yorkshire Council and various local businesses to develop a North Yorkshire Cyber Security Network to support the growth of cyber in the area.

I'd encourage any North Yorkshire business that is interested in gaining a greater understanding of cyber, the relevance it has to businesses and how local organisations have used cyber to harness information and support the growth of their business to join us at our Cyber Future event on Monday afternoon.

Eamonn Byrne, Business Development Executive at CU Scarborough
National security network Security Awareness Special Interest Group (SASIG) will also host their first networking event in North Yorkshire on Tuesday 4 July.
The SASIG event is accessible only to SASIG members and cyber security students who have registered, and has been organised by SASIG Events in collaboration with North East Business Resilience Centre (NEBRC).
For SASIG to hold their first national networking event in North Yorkshire at CU Scarborough highlights the strength of our cyber security course, gives our cyber security students who have registered to the event access to industry experts and shows that Scarborough is fast becoming a major player and a centre of excellence within the cyber sector.

Jackie Mathers, Associate Pro Vice Chancellor at CU Scarborough
People can walk into the Digital Armour and Cyber Future events on the day on 3 July but the SASIG event on 4 July is accessible by registration only.