Union Streat Kitchen
Offering you fast, filling and healthy yet affordable high-quality food, Union Streat Kitchen has been curated by students, for students.
Union Streat Kitchen is a sustainability and community focused cafeteria at CU London Dagenham, brought to you by Coventry University Students' Union (CUSU) in collaboration with the National Union of Students (NUS). Located in the heart of Barking & Dagenham, we are also open to members of the local community.
Food and Drink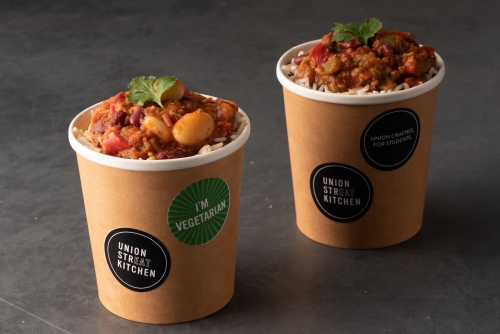 Our menu has a variety of tasty options from fresh, filling hot pots and soups, to sandwiches, wraps, salads, pastries and a range of cakes and snacks at low prices!
There is something for everyone with our vegetarian, vegan, gluten-free, halal and dairy-free food options.
Grab and go if you're in between classes and need a quick bite, or stay a little longer and chat with friends over a delicious meal. Feel free to also try a cup of our ethically sourced, premium coffee from the Caféology range, while you find a spot in the café to study.
Tag @cusuculondon on Instagram or Facebook if you share a photo of the food or drink!
CUSU and NUS Collaboration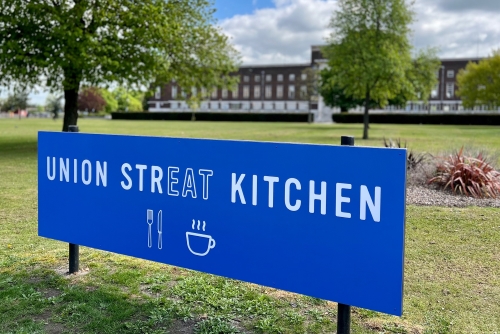 NUS have talked to numerous students across the country who want fast, filling, healthier and affordable options to eat regularly on campus. They accepted the challenge and worked exclusively with Students' Unions to create an affordable, inclusive catering provision that puts the planet before profit.
The outlet serves only high quality food prepared with British Ingredients that are Red Tractor Certified Standard as a minimum, at a range of price points to suit a variety of student pockets.
CUSU want to ensure that all CU Group students have access to great food at affordable prices. Not only are they bringing this catering provision to students, but any profit made from the outlet will be invested back into the student community and student-led initiatives. Employability is a key strategic aim for CUSU too, so Union Streat Kitchen will also work to provide training and meaningful earning opportunities wherever possible.