Third year CU Coventry students attend 'Being Brilliant' careers event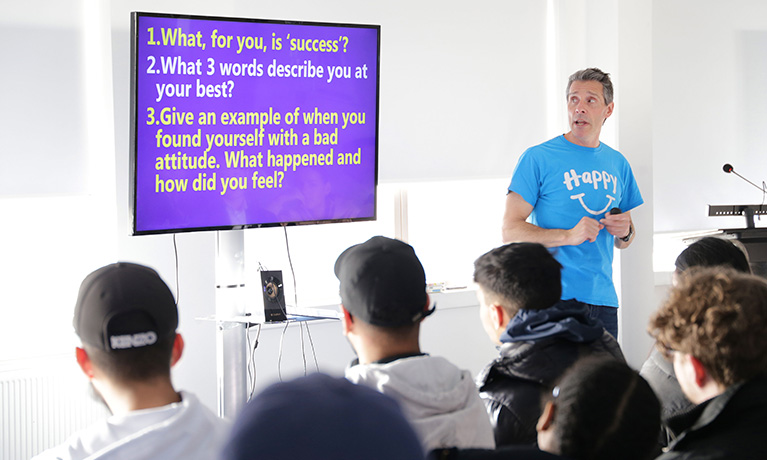 ---
news
Friday 14 February 2020
Press contact
---
Coventry students heard the secrets on how they can make a real difference to their future careers and their wellbeing through the power of positive thought during a special careers event.
The Being Brilliant event, held at CU Coventry's new state of the art campus on Mile Lane, saw the 'Doctor of Happiness' Andy Cope give a speech to around 200 third-year students on how they can take small steps which will positively affect their future ambitions and enable them to become happier individuals.
Dr Cope extended his research into why particular individuals, known as the 'two percenters', can often be found heading up very successful companies. Much of their success lay in their ability to approach professional life in a positive manner.
Dr Cope has written several books on how people can go about becoming a two percenter themselves, and has organised workshops for companies such as Sky, Microsoft, and the NHS.
In his speech, he told CU Coventry students to make the most of the 4,000 weeks or so of life that they will have, and try not to become consumed with negative feelings.
His talk was also interspersed with audience participation, such as getting the students to talk about what defines success for them, and allowing them one last moan about something trivial before the talk ended.
Positivity is not an emotion - it is an attitude. Becoming fixated on minor annoyances can be easy, but putting a positive spin on things will really help people go far.

It's not just about the small things though. Everyone will experience traumatic situations in their lives, but it's about picking yourself up afterwards and becoming an even better person.

Seeing as you only have one life, you may as well try and be the best version of yourself you can be. This is what the 'two percenters' can do, and as a result they are often incredibly successful in life.

I used the example of waking up and being thankful about something that hasn't happened, such as not having toothache. This simple technique is just one of many that can put a positive spin on a day and can honestly change people's whole outlook on life.

I hope CU Coventry's students really try to see the positives in everything after my talk, and set ambitious goals which they can work towards every day.

Dr Andy Cope, author of The Art of Being Brilliant
The event also saw students receiving support from LinkedIn professional Nigel Cliffe on how to ensure their individual social media profile was appropriate for the industry into which they will enter.
Professional headshots were taken by photographer Ollie Whitehouse to provide them a representational image for their profile. The event was further supported by Coventry University's postgraduate team.
Jackie Whitehouse, Head of Academic Studies at CU Coventry, organised 'Being Brilliant' as a way of allowing students to take time away from their courses to focus on themselves as human beings in the global marketplace and their role in the future.
The Being Brilliant event was a fantastic way for us to help our students be the best versions of themselves they can be, and to help them cope with whatever life might throw at them.

We have a key focus on employability for our students at CU Coventry, and Andy's speech, alongside the advice and support given from other professionals and the postgraduate team, will give them real confidence when it comes to finding a career that suits them.

The day was also an opportunity for our undergraduates in Tourism and Hospitality, who hosted the breakfast and breaks with incredible snacks and fruit, and our Marketing and PR undergraduates, who covered the event from a PR perspective.

We really hope all the students who attended were inspired by Andy, and that they feel confident enough to be brilliant in everything they do.

Jackie Whitehouse, Head of Academic Studies at CU Coventry