Student Awards 2019 winners announced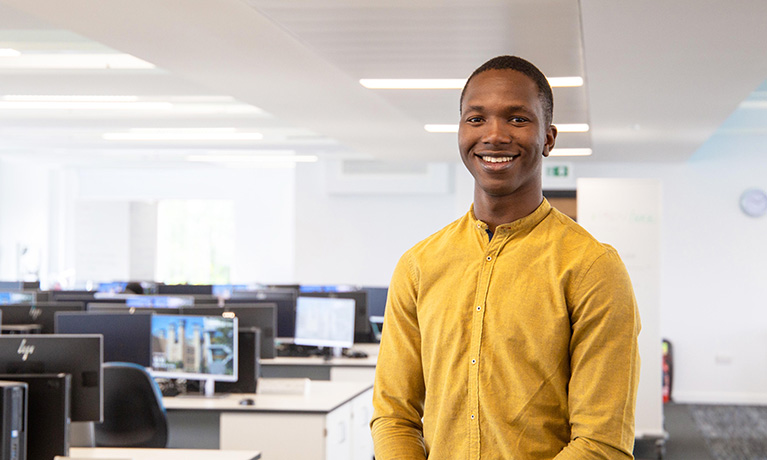 ---
news
Friday 20 December 2019
Press contact
---
A CU Coventry student's ingenious invention to help his grandfather move more freely in his wheelchair has been honoured with its 'Student of the Year' award.
OIabode Ariyo, an Electro-Mechanical Engineering student at CU Coventry – part of the Coventry University Group - designed a special wheelchair controller for his grandfather as part of a final-year project for his course.
He was recognised alongside other outstanding CU Coventry students at the awards ceremony, held at its state-of-the-art Mile Lane campus.
I had seen my granddad struggle with his mobility for many years, so I knew I wanted to try and help him with my final year project.

Instead of creating a traditional hand-operated wheelchair controller, I wanted to build something that responded to head movement.

Studies have shown that many people who use wheelchairs struggle to use hand-operated controllers, so I knew my invention could help many people if I was able to get the design right.

Thanks to the help of my tutors and a lot of hard work, I was able to build my prototype controller, which I think could have multiple applications for those with disabilities.

I'm so happy CU Coventry thought my project was inspiring – it's a real honour to have been named Student of the Year.

OIabode Ariyo, Electro-Mechanical Engineering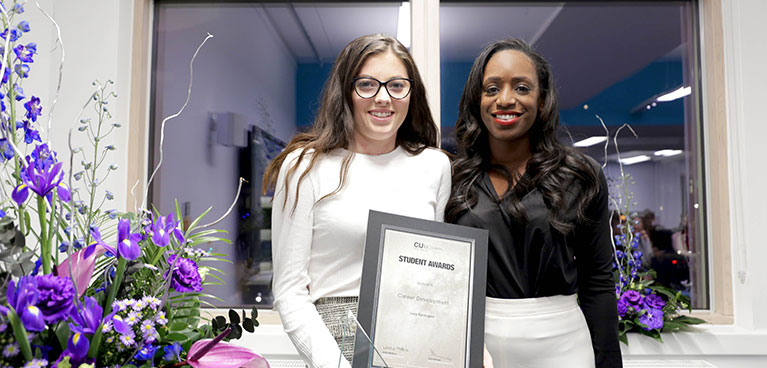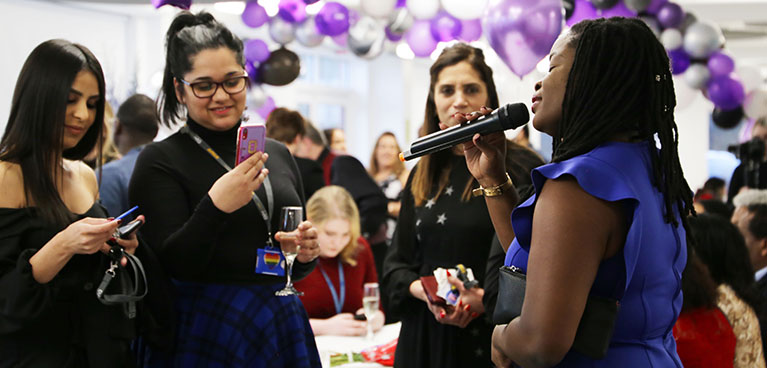 Another winner on the night was 21-year-old Jaguar Land Rover employee Lucy Farrington, who scooped the Career Development Award.
She is sponsored by JLR to study Management and Leadership at CU Coventry once a week after being scouted by the firm for an apprenticeship when she was just 16.
The course here at CU Coventry has given me a big boost to my confidence in the workplace – it's really practical and has definitely improved my work at JLR.

I love coming here to study - Mile Lane's facilities are excellent and the staff and my fellow students are all so helpful.

It's fantastic to have won the Career Development Award. CU Coventry have always been so supportive of my career so I really have to thank everyone.

Lucy Farrington, Management & Leadership
The Student Awards, now in their second year, shined a light on students who have come up with inventive ideas, reached a level of outstanding achievement, or demonstrated real skill during their studies.
Hosted by Customer Service and Experience Operations Manager at CU Coventry Richard Maybery-Woolfe, the evening started with light refreshments before students and their families moved upstairs for the ceremony.
The ceremony was opened and closed by Associate Pro Vice Chancellor of CU Coventry Jackie Mathers, who congratulated all the winners and runners-up.
Every student who received an award should be very proud of their achievements.

Olabode's story behind his innovative controller was incredibly moving, and it has the potential to change the lives of so many people.

He has worked very hard during his final year to bring his idea to fruition, so he was the obvious choice for the Student of the Year award.

We wish Olabode and all the other winners all the very best as they continue to study at CU Coventry or go on to the world of work.

Jackie Mathers, Associate Pro Vice Chancellor of CU Coventry
Winners
Olabode Ariyo
Student of the Year
Ping Wan
Inspirational Achiever
Lucy Farrington
Career Development
Serena Bird
Outstanding Effort
Pooja Rathod
Student Voice of the Year
Andrae Campbell
Entrepreneurial Initiative
Tim Hardie
Apprenticeship Excellence
Idris Khalil
Rising Star
Sharvini Gnanakumaran
Student Ambassador of the Year
Katherine Greenhalgh
Community and Volunteering Award
Kathryn Duncan
Project Excellence
Runners Up
Pooja Rathod
Student of the Year
Eden Tesfagaber
Inspirational Achiever
Aisha Yousaf
Outstanding Effort
Georgia Bickley
Student Voice of the Year
Shama Khiara
Entrepreneurial Initiative
Abdul Lattif Masoud
Rising Star
Andrei Iordan
Student Ambassador of the Year
Erica Cowley
Community and Volunteering Award
Ashlynn O'Keefe
Project Excellence