Student Awards 2018 winners announced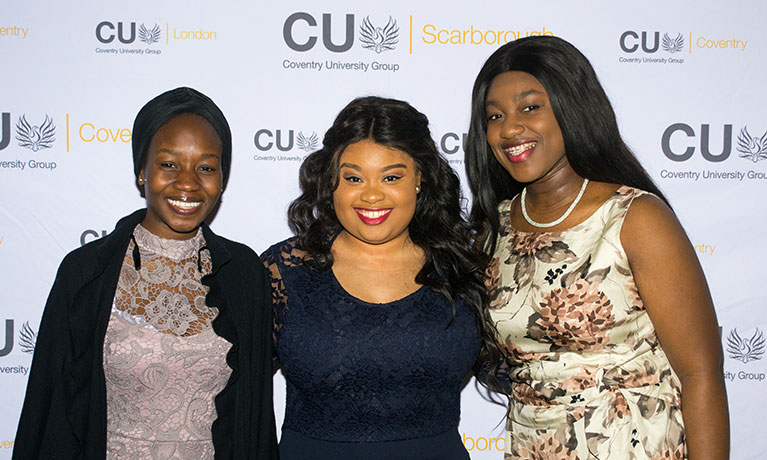 ---
news
Friday 23 March 2018
Press contact
---
On Thursday 22 March 2018 CU Coventry celebrated its students in an inaugural event created to recognise and reward bright ideas, shining achievements and sparkling skills.
New for 2018, nominations for the annual Student Awards opened in December, when tutors and students were able to put forward individuals for a range of awards designed to reflect the diversity of talent at CU Coventry and its learners' strengths.
Talent shines in many different ways and whether students were passionate about volunteer work or demonstrated entrepreneurial flair, there was an award to suit.
The judging panel - made up of members of senior staff from Coventry University and CU campuses - carefully considered each nomination, narrowing candidates down to 28 students who all greatly impressed the judges with their accomplishments.
Jackie Mathers, Associate Pro Vice Chancellor for CU Coventry and Student Awards judge, said:
It was a privilege to review all the brilliant nominations for the first ever CU Coventry Student Awards and the evening was a huge success. Meeting and talking with all our amazing nominees and award winners throughout the evening was a wonderful experience. It was great to see such a spectacular turnout and thank you to all staff and students involved.
Students shortlisted for the awards were invited, along with two guests, to attend the exclusive CU Coventry award ceremony at the charming St Mary's Guildhall, located in the city's historic Cathedral Quarter.
Toasting the bright minds and dedication of CU Coventry students, the night began with entertainment and pre-dinner drinks in the courtyard, followed by a delicious three course formal dinner. The anticipation reached a peak soon after, as winners and runners up were announced and presented with their prizes.
A trophy, certificate and a prize of £300 was presented to the winners, while runners-up received a £50 gift voucher and a certificate.
Blessed Pepple, who received a record 12 nominations, was awarded the coveted Student of the Year Award as well as scooping two commendations. Judges were inspired by the student library rep's dedication to addressing concerns other students raised with him; instigating realistic solutions while never losing sight of the student perspective on the issue.
Blessed, who studies Biological & Chemical Sciences at CU Coventry, said after winning Student of the Year:
Thank you to all my tutors and fellow students for their help and support over the years, it's been wonderful!
Rising Star Award winner James Umblijs was thrilled to receive his accolade, saying:
I feel so valued and recognised for all the hard work I've put in. Tutors are always available to mentor and now I'm fitting into a place I never thought I'd fit.
James applied through Clearing to the Management & Leadership BA (Hons) programme in September 2017, and has since impressed his tutor with his desire to make a real contribution to class activity through a dynamic approach to discussing the material presented with his peers and members of staff alike.
Another Biological & Chemical Science student, Rubina Karavidas, won the Project Excellence Award for her professional approach to her project involving DNA extraction and genetic recombination - an important area in the current research of genetic engineering. Rubina also secured runner-up for the Community and Volunteering Award, for her efforts in raising awareness of HIV as a volunteer at Travel Klinix, as well as working alongside Coventry City Council and The Highlife Centre.
Rubina said:
Coming from a disadvantaged background and a learning disability, I'm very proud of myself for winning this award. Thank you to CU Coventry and my course tutors for their belief in me.
Winners
Blessed Pepple
Student of the Year Award
Katarzyna Najafali
Award for Entrepreneurial Initiative
Olabode Ariyo
Career Development Award
Jordan Featherstone
CEO Student Contribution Award
Erica Cowley
Community and Volunteering Award
Michelle Yao
Inspirational Achiever Award
Tanooj Mehra
Outstanding Effort Award
James Umblijs
Rising Star Award
Andrei Iordan
Student Ambassador of the Year Award
Mary Makin
Student Voice of the Year Award
Rubina Karavidas
Project Excellence Award
Runners Up
Chow Kong
Student of the Year Award
Blessed Pepple
Career Development Award
Rubina Karavidas
Community and Volunteering Award
Ryan Butler
Inspirational Achiever Award
Chow Kong
Outstanding Effort Award
Charmaine Kampiyawo
Rising Star Award
Kerri Collier
Student Ambassador of the Year Award
Blessed Pepple
Student Voice of the Year Award
Monika Szczodrowska
Project Excellence Award
Rytis Kisla
Project Excellence Award
Bianca-Gabriela Iordache
Project Excellence Award
Cristina-Denisa Duduiala
Project Excellence Award
Akash Gaikwad
Project Excellence Award
Napen Kalamphak Polachai
Project Excellence Award
Alexandra-Mihaela Prisecaru
Project Excellence Award
Mihaela Mihu
Project Excellence Award
Erika Plepyte
Project Excellence Award
Very well-deserved congratulations to all the winners and runners up at CU Coventry's first ever Student Awards.