National provider of work based degrees and higher apprenticeships launched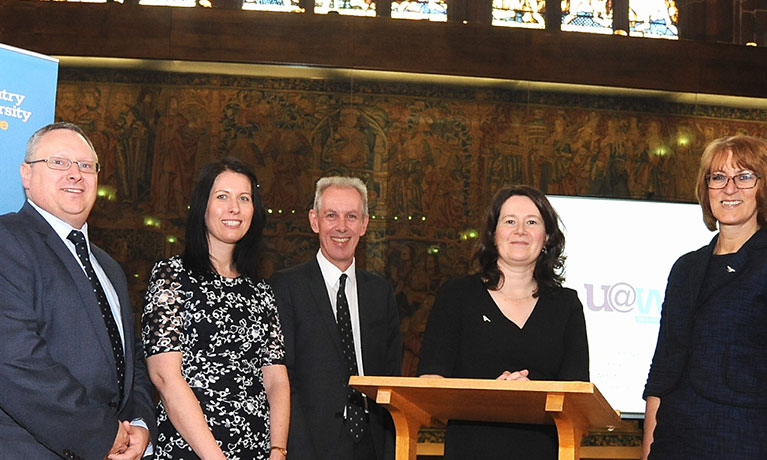 Degree news / Business news
---
news
Tuesday 08 March 2016
Press contact
---
A new programme to provide higher education including higher and degree apprenticeships in workplaces across the UK has been launched in Coventry.
Uni@Work, part of Coventry University College, is a national provider of degree and higher apprenticeships.
The official launch at St Mary's Guildhall in Coventry also celebrated Coventry University's appointment by the Skills Funding Agency (SFA) to provide higher and degree apprenticeships through Uni@Work in management and leadership, engineering and manufacturing, and law, with more courses being developed.
John Dishman, Chief Executive Officer and Director of Coventry University College (CUC), Sue Husband, Director of the National Apprenticeship Service, and Claire Buckland, Head of Uni@Work, were the guest speakers along with several Uni@Work employers and learners.
The Uni@Work scheme allows people of all ages to earn a wage and study for a higher level qualification ranging from higher apprenticeships Level 4 to Bachelor's degrees at the same time.
The academic qualifications will be awarded by Coventry University – named Times Higher Education Awards University of the Year 2015 and Times and Sunday Times Modern University of the Year 2014, 2015 and 2016.
It will also bring professional accreditation from industry organisations including the Chartered Management Institute (CMI), Chartered Institute of Legal Executives (CILEx) and the Association for Project Management (APM).
The launch event gave businesses the opportunity to find out how Uni@Work can help them attract, develop and retain their best talent cost-effectively and to receive information about applying for up to two-thirds of the cost of funding higher apprenticeships. Small and Medium Enterprises (SMEs) could be eligible for further funding of up to £2,700.
John Dishman said Uni@Work is a really exciting programme which will benefit employed learners across the UK.
This programme means people can learn while they work and they have the opportunity to put their new-found skills into practice which means they will develop more quickly.

For businesses, it means their employees will have knowledge of cutting-edge technology and be more employable since they will bring greater levels of skills into the workplace.

We are partnering with businesses to provide tailored programmes which take into account their needs and the needs of learners.

This will help employers to retain existing employees and attract good quality applicants who will both be bringing higher-level skills into their business which will aid economic growth.

The government aims to develop three million new apprentices by 2020 and this programme will help to achieve that.
There has never been a better time for young people to consider an apprenticeship. Higher and Degree apprenticeships are widening access to the professions and providing the higher level technical skills employers need to improve productivity and giving young people an equally valid career route as going to university.

Higher and degree apprenticeships are bringing the worlds of business and education closer together, to build the high-level technical skills needed for the jobs of the future. And this programme is a great example of this.
We will be enabling more people to access higher education in the workplace and they will be acquiring higher-level skills through a new, non-traditional academic route.

We are responding to the needs of employers since their staff won't need to leave the premises to receive a top-class education and they will be gaining experience and developing skills that they can apply to their own work, giving return on investment from day one.