New legal apprenticeship programme launched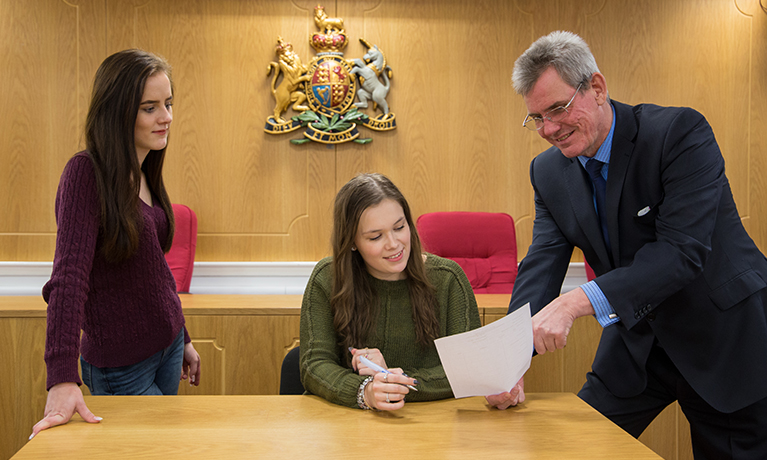 ---
news
Monday 14 January 2019
Press contact
---
A new specialist legal apprenticeship has been launched in Coventry which will see apprentices become fully qualified lawyers within five years by studying just one day a week.
CU Coventry has welcomed its very first students on the CILEx apprenticeship programme, a specialist qualification for legal practitioners which combines study with work-based learning.
It is one of only two centres in the Midlands to offer the apprenticeship in the highly sought after qualification, and one of just 15 across the whole of England.
The apprentices work at law firms across Coventry and Warwickshire while they study, spending one day each week at CU Coventry where they are taught the knowledge, competence and professional skills that are required in the workplace by industry professionals. They then put this into practice during their on the job training.
The apprentices benefit also from already having a position in the workplace so do not have find employment after graduation, and the law firms are able to shape their employees.
Alicia Fitzpatrick, CILEx course leader, said:
The CILEx syllabus had been mapped into our BA law degree at CU Coventry, and it is a huge privilege to now launch the CILEx apprenticeship.

While traditional law degrees can be very much focused on textbook learning, the CILEx programme teaches students the practical elements of law and develops skills that are required in the workplace.

This means it is an extremely well thought of qualification in the industry, and makes students very employable.

The apprenticeship covers all of the major areas of law, and because the apprentices work while they study it gives legal firms the opportunity to mould their own workforce.

The apprentices don't need to have a background in law, however those who already have a law degree have the option to take a shorter version of the apprenticeship.

Our multiple entry points mean we have CILEx apprenticeship intakes in both January and September.