International partnership with NIBM Sri Lanka launched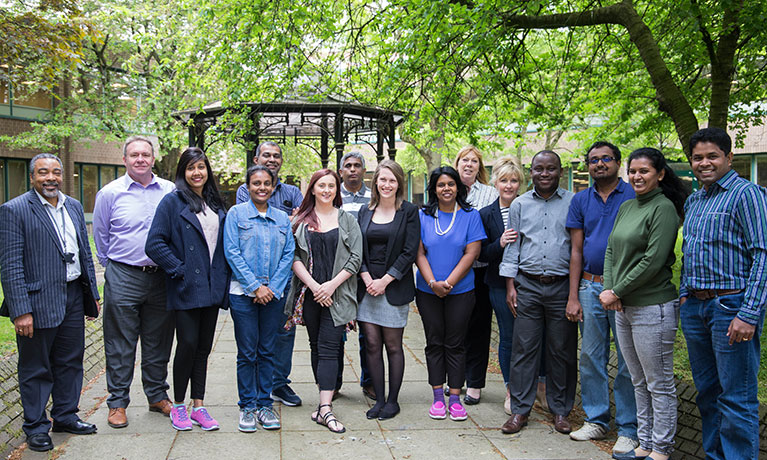 ---
news
Wednesday 30 May 2018
Press contact
---
CU Coventry has launched its first ever international academic partnership which will see its unique model of flexible, career-focused education experienced by students in South Asia.
CU Coventry, part of the Coventry University Group, has joined together with the National Institute of Business Management (NIBM) in a collaboration which will see three of its degree programmes run at the institution in Sri Lanka.
The business school, based in Colombo, will offer degrees in Management & Leadership, Marketing & Public Relations and Professional Accounting.
CU Coventry's pioneering model will give students at NIBM the opportunity to study part time for a career-orientated degree which focuses on employability skills – something currently unavailable in Sri Lanka.
A group of visitors from the business school has been welcomed to the city to take part in a four-day training programme where they learnt about processes, educational frameworks, learning resources and the student journey.
They also met with management, heads of departments, key members of staff and students and were also given the opportunity to explore the city.
The courses will be launched this summer and will see tutors from Coventry provide ongoing support and also take part in guest lecture sessions in Sri Lanka. Students may also be given the opportunity to take part in collaborative projects and exchange programmes.
Kolitha Ranawaka, Director of NIBM, said:
We are very excited to launch the three new degree programmes which will provide huge opportunities for our students.

There is a lack of graduates that possess employability skills in Sri Lanka, so the courses will take our students on a different journey and provide them with unique learning opportunities which are unmatched across the country.

This is a real collaborative project where we have been able to join together with CU Coventry on equal terms, and we are extremely pleased to offer our students the opportunity to graduate with a degree from a world-class university.

The three specific degree programmes were chosen to cater to our markets and give graduates access to employment both locally and internationally, and there is certainly the opportunity to expand on this further.

We have thoroughly enjoyed our visit to Coventry and hope to return in the future as our partnership continues.
Nick James, Head of Curriculum for Accounting and Financial Services and the managing link tutor at CU Coventry, added:
This partnership is a first for CU Coventry so is a huge milestone for us, and we are extremely proud to offer our career-focused model of education at the National Institute of Business Management.

It is an exciting cultural collaboration built around us having similar approaches to teaching methods, and we have already been able share ideas.

We have already seen our colleagues at the business school fully support and embrace our employability model of learning and embed this vocational aspect into their ethos and the student experience.

It was great to welcome our visitors to Coventry, we have all come together as one team and there is a lot of excitement around our collaboration.

We are currently setting up resource portals for both students and staff where we exchange information and share best practice, and look forward to launching the courses this summer and visiting Sri Lanka in the future.