Graduate thanks tutors for helping him achieve career success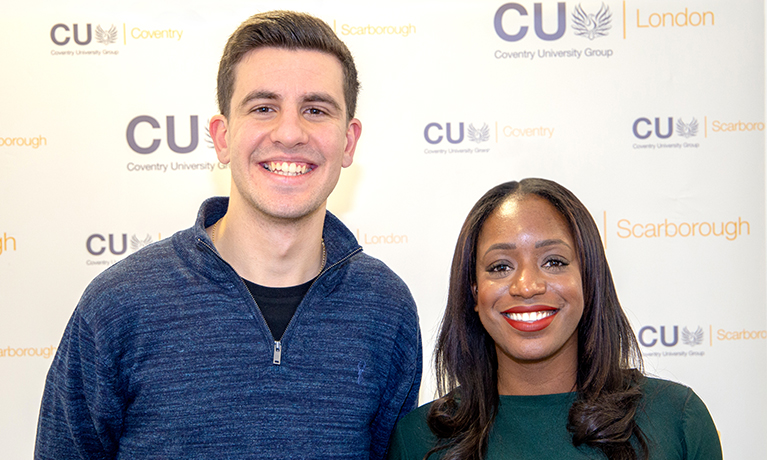 ---
news
Monday 04 March 2019
Press contact
---
A former Coventry student has thanked his tutors for driving him to success after landing a top job in a new recruitment firm.
Alex Cairns, 22, became the first student from CU Coventry – part of the Coventry University group – to be offered a place on the graduate scheme at JP Morgan after earning a first class degree in Management & Leadership BA (Hons) in July 2017.
And after gaining important skills and knowledge at JP Morgan, Alex recently became the deputy head of operations at 'Tempo UK'- a recruitment company which uses artificial intelligence to find jobs.
Alex felt his success would not have been possible without the staff at CU Coventry encouraging him to work hard and believe in himself.
"The biggest thing that I took away from my time at CU Coventry was that I could achieve whatever I wanted with hard graft," Alex said.
"When I spoke to staff there about the career I wanted, they gave me great advice. They knew I wanted to get a first, so they pushed me hard academically."
Alex follows in a long line of CU Coventry graduates in achieving employment success as 97 per cent are in paid work or further study six months after graduating.
And he said more and more employers are seeing the benefits of recruiting CU Coventry graduates.
He added: "Employers had previously been missing out on some of the talent emerging from CU Coventry but that is changing.
"I'd definitely urge businesses and organisations to tap into the potential that CU Coventry grads have to offer."
Employment and Placements Manager at CU Coventry, Aysha Abdullah, said Alex was a great example of just how much CU Coventry students can accomplish.
Alex's success shows CU Coventry students can achieve anything they want to with hard work and determination.

The staff here will always look to help every single student get to where they want to be in life.

Although our students have great career prospects, we hope Alex's story will inspire our students to push themselves and achieve their dreams.

Aysha Abdullah