Grad Expo offers advice on gaining the edge when applying for high-level jobs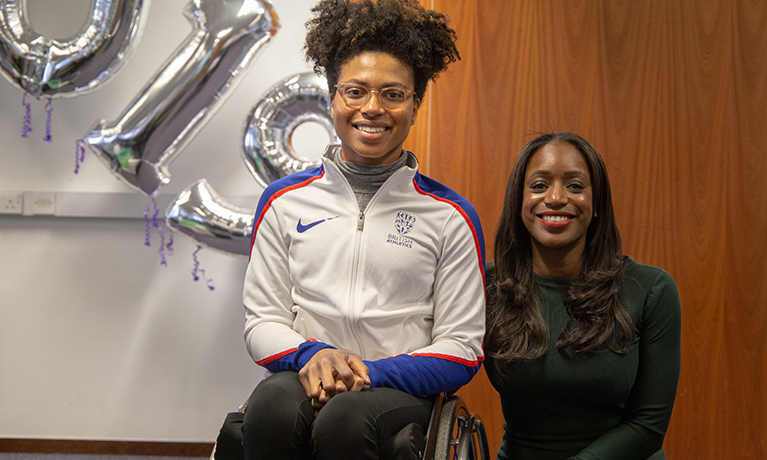 ---
news
Thursday 21 February 2019
Press contact
---
A record-breaking para-athlete from Coventry gave lucky students advice on how to achieve their future goals and get ahead in life.
Kare Adenegan, a wheelchair racer who broke the world record in the women's 100m T34 in 2018, was a keynote speaker at this year's Graduate Expo at CU Coventry, part of the Coventry University group.
The 18-year-old spoke to students about how she was able to keep her mind focused on her goals and how she always believed in herself, despite facing tough competition from rival Hannah Cockroft and having to balance her athletics with her studies.
Although she came last in her first competitive race, Kare said patience, positive thinking and pushing her body eventually enabled her to break the world record and earn her first senior gold medal at the 2018 European Championships in Berlin.
This led her to be named Young Sports Personality of the Year for 2018 – an award previously won by sporting stars Sir Andy Murray and Tom Daley.
She gave the soon-to-be graduates an insight into the main lessons she has learnt and how her future goals continue to drive her to succeed.
During her inspirational speech, she told the students: "Success happens over time, it doesn't happen straight away at all.
"To get that record was such a huge deal for me. I really wanted it, and it showed me that if you really aspire to something, you can achieve it."
The Expo aims to ensure CU Coventry's students are more prepared and better connected when it comes to searching for the right career or graduate scheme.
It gave students the chance to network with one another, learn more about potential career paths, and have free professional headshots to give people the edge over the competition when applying for high-level jobs.
Alongside Kare, talks were given to students by former alumni and professionals from Linkedin.
Employment and Placements Manager at CU Coventry, Aysha Abdullah, praised Kare's speech and hoped students would take her advice.
It was wonderful to welcome Kare to speak about her amazing career. She gave great advice to the students, who are all coming to the end of their time at CU Coventry.

It's so important that our soon-to-be graduates focus hard on their goals, while also remaining patient as they work towards their ambitions. Kare's speech showed our students anything is possible if you put your mind to it.

It was excellent to see so many students at this year's Expo, they have all worked incredibly hard and we wish them great success for the future.

Aysha Abdullah