Expert advice at CU Coventry to plan your next move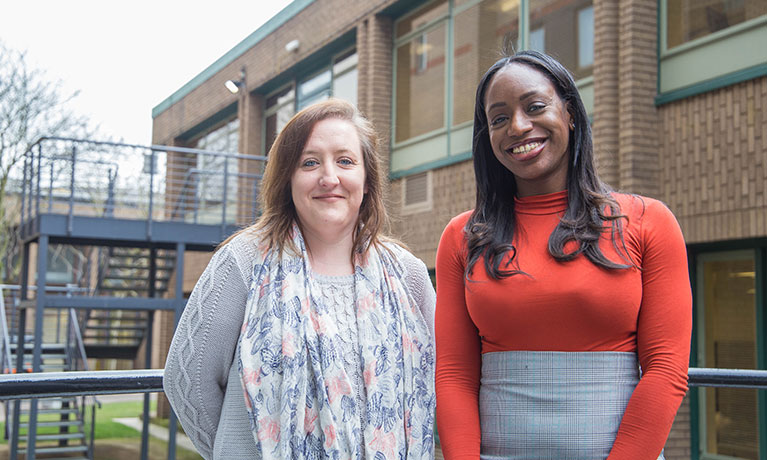 ---
news
Friday 16 March 2018
Press contact
---
Soon-to-be graduates from CU Coventry took advantage of a day of expert career advice offered to help them plan their next move.
CU Coventry, part of the Coventry University Group, organised a Graduate Expo to help those who are nearing the completion of their degrees kick start the next chapter of their professional life.
The day aimed to ensure students are more prepared and better connected when it comes to searching for the right job or graduate scheme and included talks from Aston Martin employees, LinkedIn representatives and former alumni.
It helped students such as 37-year-old Mary May from Coventry, who fits in her public health degree around work and raising two children, gain some practical advice on how to impress potential future employers.
Mary chose to attend CU Coventry for its flexible learning options and career focused model of higher education.
I wasn't the most focused learner in my school years, but as I got older I realised that education is probably the best thing you can do with your time.

I'm a qualified teaching assistant, but wanted to take a course which would help me expand my career. Now I'm aiming for a first in my degree and I am always taking courses to try and broaden my knowledge and opportunities.

I thought it would be daunting doing a degree as a mature student with children, but everyone at CU Coventry is so supportive. The course fits around my family and work life and I am so glad I decided to pursue it.

University is one of those things where you get back what you put in, so I have really thrown myself into the educational and supportive side of things, such as being a student rep.

I'm really looking forward to graduating - I feel there is so much I can do now.
The Graduate Expo gave students the chance to network with one another as well as speak to Google Digital Garage representatives, while free professional headshots were also on offer to give people the edge over the competition when applying for their dream job.
Jackie Mathers, Associate Pro Vice Chancellor of CU Coventry, said:
Those students who are coming to the end of their degree studies at CU Coventry are going to be a wonderful addition to the talent pool in their respective industries.

The skills they have developed and the hard work they have put in during their time here will hold them in good stead as they move into the world of work and I am certain they will all achieve amazing things.

We wish them every success in the future and will offer our support to them during this transitional period.