CU Coventry's game-changing learning model the focus at new campus launch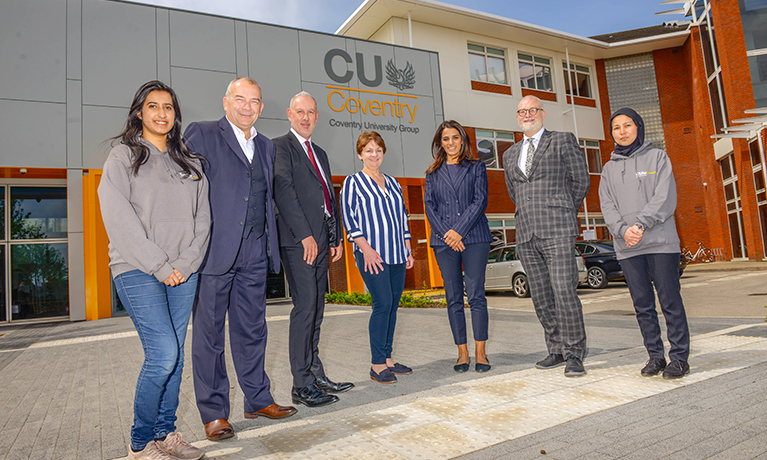 ---
news
Friday 24 May 2019
Press contact
---
A leading UK entrepreneur has praised CU Coventry for providing 'game-changing' education for its students at the grand opening of its state-of-the-art campus.
CU Coventry, part of the Coventry University Group, opened its vibrant new campus on Mile Lane to students after transforming the old BT building into a cutting-edge learning environment.
Professor John Latham, Vice-Chancellor of Coventry University, cut a ribbon outside the campus entrance to mark the occasion. And this new chapter in CU Coventry's history, along with the innovative model of education it is providing to its students, were strongly praised in a keynote speech by Priya Lakhani OBE.
Priya, an entrepreneur who set up her Asian fresh food brand Masala Masala from her own kitchen at home in 2008 and now runs CENTURY Tech, a learning platform which uses AI to improve students' experiences, told the audience it was crucial to challenge outdated ideas and 'disrupt' the norm to improve people's lives.
Every time you come up with something that challenges the norm, you will face naysayers. But you have to challenge them and persevere.

CENTURY Tech challenged the one-size-fits-all education model where teachers give the same lesson to all students, regardless of ability. The more a student uses CENTURY Tech, the more it adapts to the student's ability. It gives teachers more time to actually teach instead of spending their time marking.

Similarly, CU Coventry is leading the way in changing outcomes for students thanks to its brilliant new ideas around how education is delivered.

CU Coventry has different entry levels for its students, making degree-level study more attainable, and its flexible learning model allows students to fit their studies around their busy lives.

This new approach to learning gives all students, regardless of background and lifestyle situation, real opportunities and choice, which is what I believe education is all about.

Priya Lakhani OBE, Founder and CEO of CENTURY Tech
Having Priya Lakhani as our keynote speaker was a great honour. Her whole career has been devoted to challenging established models and really making a difference.

Our education model is completely different. It's about being flexible and accessible – our students can start a course at several different times in the year rather than just September, and students can study in the morning or the afternoon, meaning they have time for work or care.

It's a modern model for modern times, and now our fantastic new campus is open, the number of students joining us is only set to increase.

This grand opening is a real milestone for CU Coventry, and we're very excited to move onto the next stage of our history.

Jackie Mathers, Associate Pro-Vice Chancellor of CU Coventry
CU Coventry's Mile Lane campus includes in its modern and open design, innovative teaching space, IT suites, engineering and science labs, a moot court, media studio, an exciting library and a café, as well as extensive breakout areas.
CU Coventry's employability model and the student experience are at the heart of the building's design, with a number of rooms set out to immerse students into an industry environment to prepare them for the world of work.
Giving students and staff access to some of the very latest technology was also a top priority, with the building including 83 inch teaching screens in all classrooms as well as state-of-the-art design and camera equipment, advanced electro-mechanical technology, modern science labs and innovative teaching experiences.
Energy-efficient features including smart lighting, electric car charging points, improved bike storage and showers to encourage cycling, and modern boilers and chillers have also been incorporated.
Our new campus at Mile Lane is providing our students with a truly modern learning environment.

CU Coventry has an excellent track record of getting our graduates into quality employment, and Mile Lane's features, such as its science labs and moot court, mean our students get a taste of the real thing before going out into the world of work.

So it was wonderful to celebrate this remarkable building at our grand opening. We hope all of our students enjoy using it for years to come.

John Dishman, Pro-Vice Chancellor and CEO of CU