Connect course helps refugee return to education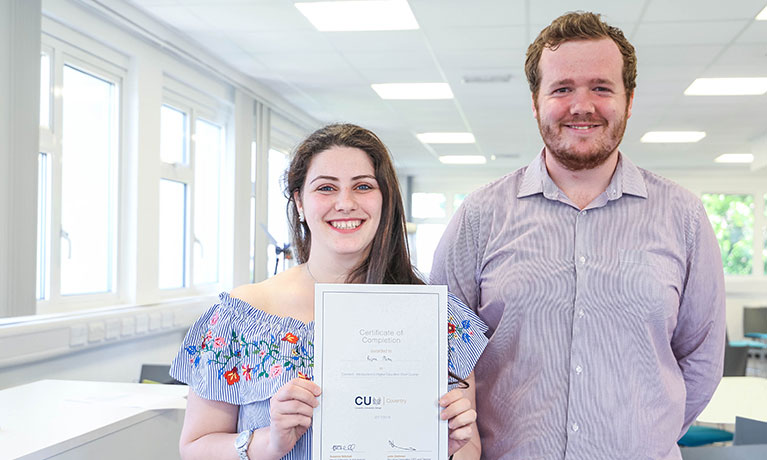 ---
news
Monday 27 August 2018
Press contact
---
A 23 year old from Iraq who has been in the country just 8 months has been given the help and advice she needed to go back into education at a free course in Coventry.
Rojina Moma, who moved to the UK as a refugee to escape the war, is set to apply for a foundation degree after taking part in CU Coventry's Connect course, which aims to give adults a chance to find out more about higher education before making a commitment.
Rojina had been studying to be a teacher in Iraq but left her home with her family to relocate to the city.
She was referred to CU Coventry by Coventry City Council after expressing an interest in continuing her education and was invited on the Connect course, which covers a range of modules including exploring higher education, funding higher education, effective study skills and subject taster sessions. Connect courses are held throughout the year at CU Coventry, and are open to adults looking to get back into education.
Two-hour sessions were held every week, for four weeks, and delivered a range of information and skills needed to study at a higher level as well as giving participants tips on how to apply.
Rojina is now looking to pursue a career in physiotherapy, and is applying for a foundation degree at CU Coventry, part of the Coventry University Group.
I had no idea what I wanted to do when I moved to England. Although I knew I wanted to continue my education, I wasn't sure if I had the correct qualifications to apply to university.

The Connect course was very informative and showed how accessible higher education is at CU Coventry. The tutors were very helpful and were always on-hand to answer any questions.

It was a lot of fun and gave me the opportunity to meet like-minded individuals also wanting to go back into education.

I really enjoy living in Coventry and am now excited about my future. I would never have had the confidence to apply for a degree if I hadn't taken the course.
It is excellent to hear how much Connect has benefited Rojina and how it has given her the confidence to apply for a course at CU Coventry.

She was joined by a range of people with different backgrounds who were interested in vast career areas from engineering and teaching to business and nursing.

Traditionally the sessions attract those who have been out of education for many years and would like go back into it for a mixture of personal and professional reasons, however we also welcomed a number of people with refugee status to our latest course.

We have received some excellent feedback from the participants, and look forward to welcoming some of them as students at CU Coventry in the future.