Alleged 'thief' found not guilty by law students in their first mock trial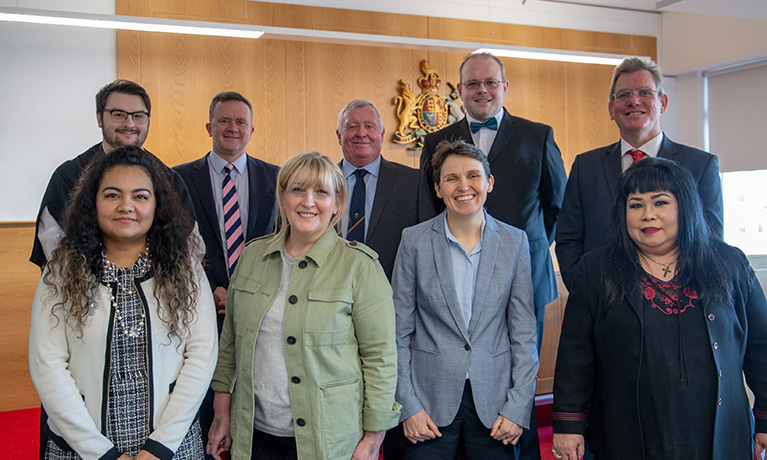 Degree news / Student news
---
news
Monday 20 January 2020
Press contact
---
A thief who allegedly stole a handbag and cash from a woman after a night out at the pub has been put on trial in front of magistrates – but all was not as it seemed.
In fact, the case was the basis for a 'mock trial' held to aid students in a new replica courtroom inside CU Coventry's state-of-the-art campus on Mile Lane.
The mock trial was the first of its kind for students taking the Law & Practice degree at CU Coventry – part of the Coventry University Group - and was conducted in exactly the same way as it would be in a real magistrates' court.
The audience of students watched CU Coventry staff – some of whom have come from legal practice - play the parts of the defendant, advocates, and magistrates during the trial.
The defendant, played by CU Coventry's Head of Academic Studies Jackie Whitehouse, was accused of stealing a handbag and taking £35 in cash from it after a struggle with the complainant, played by Clare Brennan.
Prosecution lawyer Shane Robson used witness evidence to suggest Jackie had stolen the bag and money, while Jackie and her defence lawyer David Rees argued that it simply wasn't her, and implied the witness evidence was unreliable.
After carefully listening to the arguments put forward in the trial, the student audience voted to find Jackie not guilty – the same verdict as the magistrates – due to the amount of doubt surrounding the case.
It is hoped this first trial will be used as a training tool for students, who will then conduct their own mock trials as part of their degree assessment.
At CU Coventry we strongly focus on practical skills and employability over simply going through theory.

Mock trials will become part of the curriculum, and our students will be able to practise arguing cases as prosecution or defence advocates before they apply for work placements or full-time jobs as practising lawyers.

We wanted to make absolutely sure the students experienced a trial as it would play out in a real-life court – having an authentic trial means they will not be fazed by the procedures when they come to argue a case in a real court.

We also gave them a case which did not have a clear-cut verdict – it was important for the students to scrutinise the prosecution and defence's arguments and decide whether Jackie was 'guilty' beyond all reasonable doubt.

Students taking Law & Practice in the future will use a recording of this first trial as a training tool, and will then conduct their own trials to give them a proper experience of what it's really like.

Alicia Fitzpatrick, Law & Practice Course Leader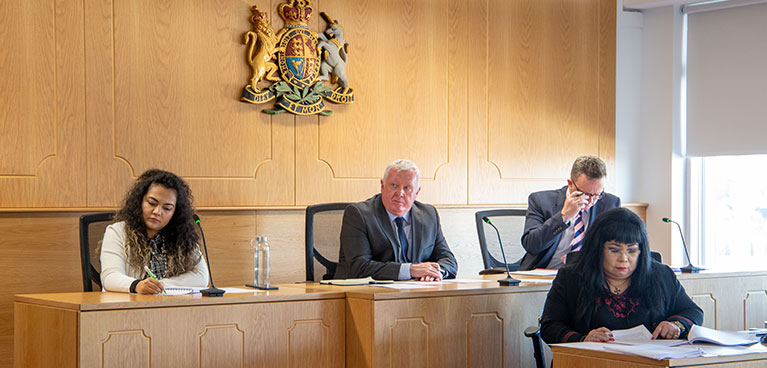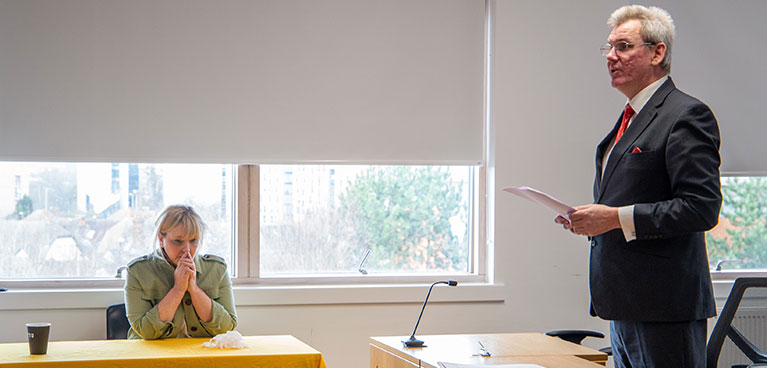 And Jackie felt the mock trial was another example of how CU Coventry focuses on practicality and future employability for all its students.
This is a fantastic way for students to learn first-hand the practical skills they need to be effective lawyers in the courtroom.

The fact that so many of the academic staff teaching Law & Practice are or have been practising lawyers means the mock trial was truly authentic, and gave the students watching a key insight into exactly what to expect in court.

Employability is at the heart of all our courses at CU Coventry, and this trial, along with the future mock trials that students will conduct, makes it more likely our students will impress a law firm should they apply for a position.

Jackie Whitehouse, CU Coventry's Head of Academic Studies