Access course put aspiring biologist on the path to a science degree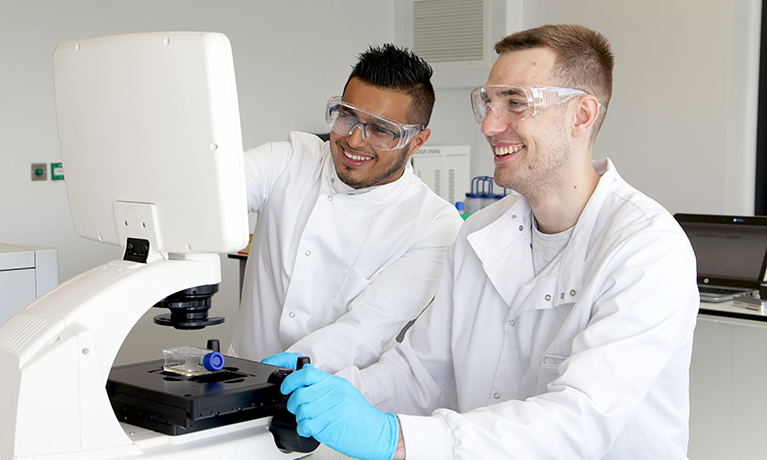 ---
news
Thursday 17 October 2019
Press contact
---
An aspiring biologist at CU Coventry is breaking new ground three years after thinking he might not be able to take a scientific degree at all.
Sebastian Dworczyk, a third-year Biological and Chemical Sciences student at CU Coventry – part of the Coventry University Group – conducted a hi-tech experiment analysing the genetic sequence of a bacterial species using equipment commonly used by scientists working with the NHS.
Sebastian performed the experiment in CU Coventry's cutting-edge labs at its Mile Lane campus, which became CU Coventry's new home earlier this year.
But he might not have been able to study a scientific degree at all if it were not for CU Coventry's one-year access course in health and human sciences, which is specifically designed for people who do not currently have the qualifications to enter a degree-level course.
I have always been interested in biology, but I thought I was unable to study it at degree level because I did not have the right qualifications when I left college.

When I had an opportunity to move to Coventry from London, I researched places I could potentially study, and CU Coventry's access course caught my eye.

Choosing CU Coventry was perfect for me – it helped me get the skills I needed during my access course, and it really prepared me for my first year by getting me into that studying mindset again.

The access course was pretty intense but it got me up to speed very quickly.

The move to Mile Lane was fantastic too. The facilities in the labs are amazing, and it enables us to perform much more interesting and complex experiments than we might otherwise have been able to.

I'm particularly enjoying the microbiology side of the course at the moment, and the new equipment in the labs means I can study specific bacteria more effectively.
The sophisticated genome sequencing equipment used by Sebastian, called MinION (Oxford Nanopore Technologies), is routinely used in organisations like Public Health England (PHE) and private research companies. Using equipment like this in practical classes helps improve the chances of future employment in the industry for students.
This course and our new Applied Biosciences course are both designed with employability in mind, and the new facilities at Mile Lane make this far easier to deliver.

The labs are so much bigger here than at our old campus, which means we can teach far more students and we can use a wider variety of sophisticated equipment commonly used in the industry during experiments. This really gets the students prepared for a potential career in biosciences.

It's also great to see just how far Sebastian has come since he first started at CU Coventry. His success proves you can still become a scientist even if you didn't initially achieve the correct qualifications while at school.

Alongside the Access course, students can also apply to our Foundation Year in Applied Biosciences if they just missed out with their A-level results.

We're delighted with the opportunities we're able to offer our students now we're here in Mile Lane.