Top Tips from Industry Expert
Publication Year / 2013 / Categories / Business
---
Thursday 23 May 2013
Press contact
---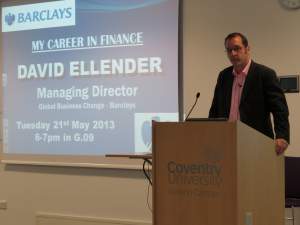 David Ellender, Managing Director of Global Business Change at Barclays Bank, Canary Wharf, recently visited Coventry University London Campus to deliver a talk on his career in finance. David has been working for Barclays for the past 25 years and through hard work, determination and networking skills has progressed through the banking sector into his current role as Managing Director.
At an early age, David's initial aspiration was be a plumber but after missing the opportunity to start a plumbing course, he accepted a role as an office junior with Barclays.
"I was advised by the careers office that due to being late in applying for the plumbing job, I should take up another opportunity in the interim of working within a bank. My intention was to work at Barclays for six months while applications for plumbing re-opened. 25 years later, I am still working for Barclays, but more importantly, do not regret my decision in taking these steps."
David admits that having no qualifications within finance has made his progression through Barclays difficult, but not impossible.
"By entering this sector without the relevant qualifications, had made my chances for progression seem unlikely. But by working hard, using my networking skills and along with seizing every opportunity available to me, I have managed to progress into my current role as Managing Director."
When asked about work-life balance, David said: "Due to my role and responsibility, I work 24 hours a day, seven days a week, 365 days a year. Even though I hardly see my family during the week I soon realised that in order to succeed and progress, sacrifices are needed to be made. Thankfully, my family are very understanding and even though I get very busy, I am still able to enjoy luxuries with my children."
David ended his talk with the following advice for our students at Coventry University London Campus: "By completing a qualification, I agree you are achieving a ticket to the game. However, it takes determination, dedication and networking skills to progress into the roles that you are all looking to achieve."
David's visit to Coventry University London Campus was as part of our Leaderships Lecture Series which gives our students the opportunity to hear industry experts share their valuable knowledge and experience with them.