Students celebrate the end of the Chinese Spring Festival
Publication Year / 2014 / Categories / Student
---
Friday 21 February 2014
Press contact
---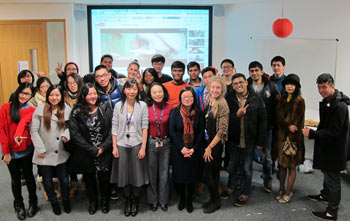 14 February may have been Valentine's Day for many, but at Coventry University London Campus it was also a day to celebrate the last day of the fifteen-day Chinese Spring Festival, which marks the start of the year of the horse. Students from Europe, Asia and Africa joined in for an afternoon of fun, discovery of Chinese culture, traditions and customs and, of course, to share some great Chinese food.
The video about the twelve animals of the Chinese zodiac was a hit opening discussions about beliefs and superstitions in the guests' own countries. A fun tip that many will probably remember on this end of Spring festival celebration that also happened to be on Valentine's day is that if you were born in the year of the horse, you should look for potential partners who were born in the years of the tiger, goat or dog. Apparently, you would not like those born in the year of the rat, ox, rabbit or horse!
The celebration which went on until late would not be complete without Chinese songs performed by some very talented London Campus students and even staff members.
Following in the step of the Diwali event last year, this event was an overall success which gave students yet another opportunity to make new friends, meet staff in a less formal set up and understand cultural differences further – a key skill required by any business leader in a global business environment.
Dr Svetla Stoyanova-Bozhkova, Head of Subject at the London Campus, said:
We are very happy that the event has attracted such a diverse crowd. Here, at Coventry University London Campus, we are creating an international and intercultural environment, which is extremely beneficial for future business professionals as it increases our students' intercultural awareness, so needed in the modern business environment. Discussions about culture are both professionally and personally enriching. Last year our Cultural Society organised a Diwali celebration which also attracted a very international audience, and we aim to celebrate the cultural diversity of the London Campus in the future.