Personal Tutoring Programme takes home top award at Coventry Excellence Awards 2019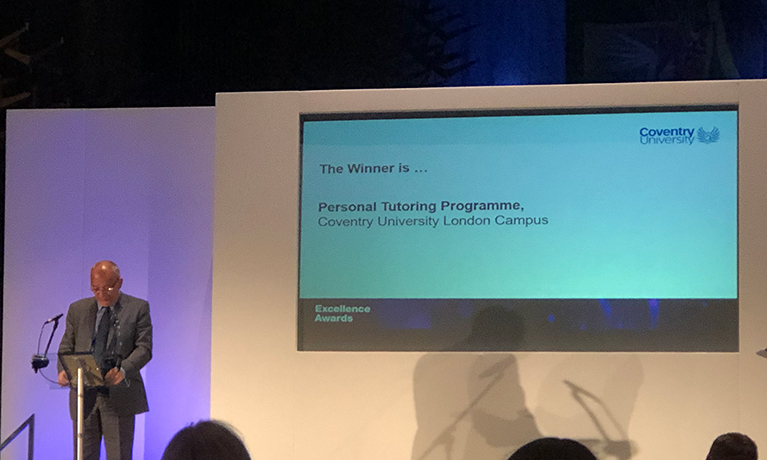 Publication Year / 2019 / Categories / Achievement
---
Wednesday 21 August 2019
Press contact
---
Coventry University London's Personal Tutoring Programme took home the Student Support Initiative of the Year Award at the Coventry Excellence Awards 2019.
A huge congratulations to the undergraduate personal tutors – Samantha Odinga, Katie Wheeler and Jodie Calleja – for their dedication in delivering an exceptional service, and to Estera Onoakpovike, Head of Student Engagement, who led the initiative. In addition, a big thanks to the wider Student Engagement Team for their continued support – Elliott Reed, Amanda Gyimah, Junior Odunowo, Fame Alohan-Eke and Reece Turner.
The awards, which took place in June, recognised the programme for its outstanding and proactive individualised student support, which is offered to students in the form of personal and group meetings, care calls (which help identify students who may need more support, or who may be at risk of failure/withdrawing) and workshops.
Our winning team tonight have embraced the importance of offering a fully comprehensive student support initiative, developing and refining a process which involved extensive engagement and collaboration to ensure stakeholders' needs were fully considered.

The outcome has resulted in a significant enhancement to the overall student experience, and the accomplishments of this relatively small team are remarkable. Students receive an outstanding service and a positive student experience, with the support provided throughout their student journey.