Malaysian movie star Joey Leong graduates from UK university
Publication Year / Categories / Achievement / Student
---
Wednesday 30 November 2016
Press contact
---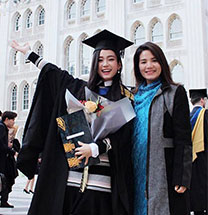 An award-winning Malaysian film star with six feature films to her name graduates with First Class Honours from Coventry University London.
Joey Leong, whose filmography includes blockbuster Asian movies such as Blood Ties (2009), The Second Coming (2013) and Our Sister Mambo (2015), has been studying a one-year top-up course at Coventry University London and will receive a BA Honours degree in Global Business during her graduation ceremony in the City of London's historic Guildhall.
Following success in her Sijil Pelajaran Malaysia (SPM) studies – Malaysia's GCSE equivalent – Joey went on to study a Foundation in Arts course at HELP University in Kuala Lumpur, before being awarded an International Scholarship to study at Coventry University London.
Singer, songwriter and actor, Joey has spent the majority of her life pursuing creative ventures both at home and abroad, working on movies, solo albums, and advertisements across Asia.
When it came to choosing her degree subject Joey decided to come to the UK and hone her business acumen, continuing her studies through Coventry University London's one-year Global Business BA (Hons) top-up course.
During her time at Coventry University London, Joey held the role of International Student Ambassador, helping to develop relationships between the Coventry University Group and Malaysia's Higher Education institutions.
"I can't wait to attend the commencement ceremony to be an official graduate!"

In the lead up to her graduation ceremony Joey said, via social media