Former Coventry University London student offers after-school learning programme to children in Ghana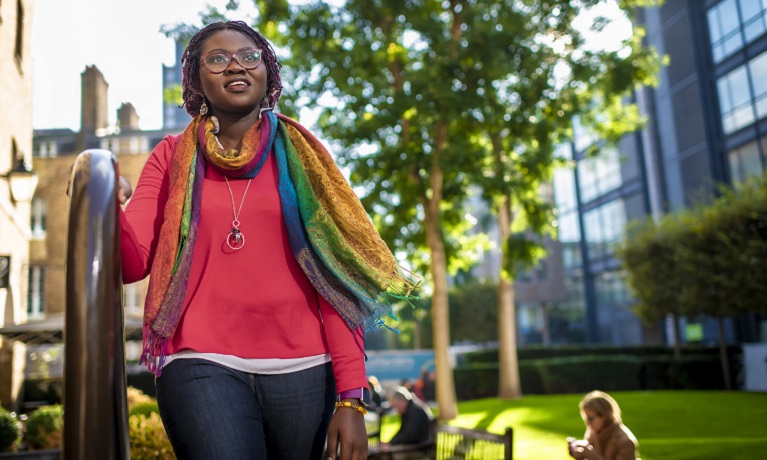 Publication Year / 2021 / Categories / Student
---
Thursday 28 October 2021
Press contact
---
Young people in Ghana are benefiting from a range of skills training as part of a digital learning initiative started by a former Coventry University London student.
Eugenia Agyeiwaa Boadi, who graduated in 2020 with an MBA in Global Business, founded the KidsAtHome School to run interactive online classes for children in Ghana, during the COVID-19 pandemic, where schools were instructed to close for almost a year.
Initially tailored to nurture curiosity and encourage creative thinking through digital learning, KidsAtHome School is now delivering a programme called 'STEAMUP', focused on STEM, arts and leadership training, that children can access during their school holidays.
With the pandemic, there arose a need for societies and individuals to work together to provide quality education to keep kids active, creative and healthy. We have used Zoom and Facebook to run free, fun, super-interactive online classes for kids aged 7-14.

Eugenia Agyeiwaa Boadi, founder of Kids At Home
After the lockdown, Eugenia, who is Ghanaian, expanded the learning offer into a children's STEM and leadership programme, which includes face-to-face sessions and field trips.
We designed the classes to nurture curiosity, encourage creative thinking and deliver fun interactions, while helping the children to navigate – through digital learning – the plethora of challenges facing their education. In August 2021, we began our STEAMUP programme, which has now given more than 30 children access to robotics, science experiments and leadership training.
The project is run by a diverse group of volunteers, who share the organisation's vision of providing fun and creative learning for the children.
The children are introduced to various exciting tech displays as part of their STEM learning, such as this presentation on how 3-D printing works.
Reflecting on the theme of Black History Month 2021, Eugenia adds: "I am #ProudToBe ME – and this is the message I try to incorporate into KidsAtHome. Children are encouraged to bring their full selves to the learning tables – there is no one way to learn."
KidsAtHome School has received high level recognition and support from key figures in Ghana's education ministry, including the deputy minister for education, Hon. Rev. John Ntim Fordjour, who visited the organisation and applauded its work in promoting STEM learning.
Find out more on the KidsAtHome School website, Facebook, Instagram and YouTube.
Coventry University London has recently celebrated its 10th anniversary, having opened its doors in the heart of the capital's financial centre in October 2010. It provides a wide array of business-related degree courses and has grown over the last 11 years to a fully-fledged, two-site campus with more than 2,500 students from all over the world.