Sir Terry Leahy, Ex-Tesco CEO, inspires students with Q&A session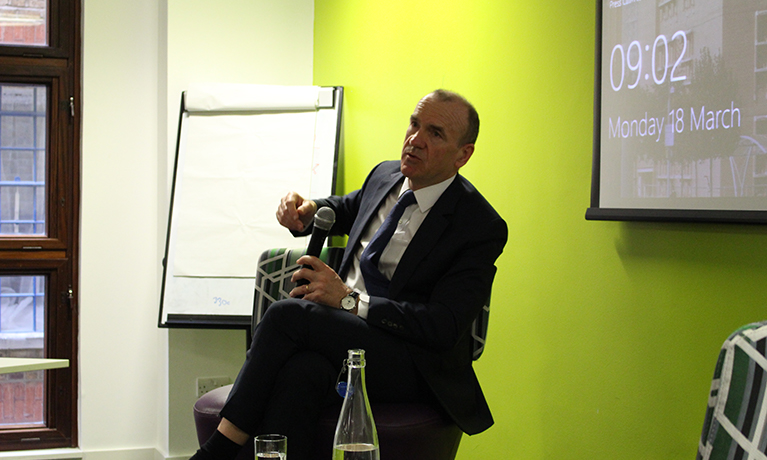 Publication Year / 2019 / Categories / Business / Student
---
Wednesday 10 April 2019
Press contact
---
Sir Terry Leahy, ex-CEO of Tesco Plc, visited Coventry University London earlier this month for an inspiring question and answer session.
On 18th March 2019, Sir Terry arrived at the campus to a crowd of students, all eagerly waiting to have their questions about his career and business philosophies answered. Despite the early start of 8:30am, the lecture theatre was packed full of undergraduates, postgraduates and staff members.
Sir Terry, who has been described as 'one of – if not the – most gifted retailer of his generation' by the Independent, joined Tesco as an undergraduate back in 1997. Since then, he's helped the retail giant to build its revenue from £14bn to £63bn, and become a key player in the global market.
Sir Terry comprehensively answered questions from the students, whose topics ranged from logistical challenges to business strategy - all while placing emphasis on the value of introspection and active listening within business. When asked to select his favourite question, Sir Terry chose one given by 3rd year undergraduate Agam Chug.
Sir Terry isn't the only big name to have visited the campus over the past year. Michael Leavey (marketing director for Arsenal FC) visited us in November, to share how the club has built such a world-renowned brand. In addition, guest lecturer Alistair Hudson visited the campus last October to introduce students to Investment 20/20, a graduate scheme which seeks to bring more diversity into investment, while Deniz Oral (Commercial Director of Pringle of Scotland) delivered a talk to fashion students about what it means to work in luxury fashion.