Coventry University London Campus Celebrates Diwali
Publication Year / 2013 / Categories / Student
---
Wednesday 06 November 2013
Press contact
---
Recently, Coventry University London Campus' Cultural Society held a fun-filled event to celebrate the festival of Diwali. The society, headed by Vikrant Shilimkar, organised a social event on Friday 1st November for all students and staff members to attend.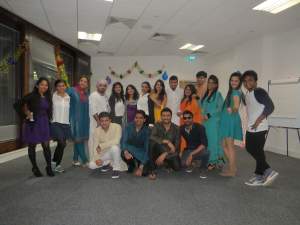 Diwali, celebrated by Hindus, Jains and Sikhs alike, is a referred to as 'the festival of light' and represents the victory of good over evil and light over darkness.

The society organised a series of performances, which kept the eighty strong audience thoroughly entertained. These included a dance off between modern and traditional Indian dance; a light-hearted play with students re-enacting the diversity of nationalities at Coventry University London Campus, and a fashion show depicting the Indian cultural outfits. The event ended on a high note, with the students encouraging the staff to join in with the dancing, as well as delicious Indian savoury snacks being served.

The event has inspired other students to organise further cultural events throughout the year, in order to bring together the richness of the diverse student community at Coventry University London Campus.