MSc Employability Leadership launched
Publication Year / 2014 / Categories / Business / Achievement / Student
---
Tuesday 24 June 2014
Press contact
---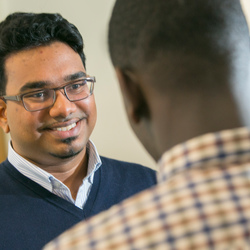 Coventry University London Campus and The Institute of Employability Professionals (IEP) have launched their unique MSc Employability Leadership programme. Designed and developed by industry experts the MSc Employability Leadership is the only programme of its kind to provide the strategic management, operational, financial and leadership skills necessary for current and future leadership within the Employment Related Services sector – the outsourced supplier network who are paid on sustained job outcomes for the unemployed and those furthest from the job market.
Employability is central to government commissioning and policy. Delivering job outcomes and improving employability is increasingly being seen as a means of improving outcomes in other areas including health, offending and housing. The commissioning of employability programmes has been the focus of implementing flagship government policy such as payment by results and black box delivery models. Benefits of increased employment include reductions in benefits expenditure, improved social inclusion and less child poverty.
Through the commissioning of employability programmes, the Employment Related Services sector has a high degree of public exposure, serving millions of people and working with thousands of employers. It handles significant public funds, often deployed through innovative financial frameworks with challenging targets and high expectations from its customers and stakeholders. The ERS sector is expected to maintain its standards as it works through complex supply chains and a large workforce. Leaders in the industry are expected to understand this complex network of accountabilities and reflect that understanding in the strategic decisions they take and the frameworks within which they lead.
Endorsed by leading companies and professionals in the Welfare to Work sector, the IEP MSc Employability Leadership develops a deep understanding of business and management within the complex ERS sector.
Endorsers include: Advance, Avanta, Centre for Economic and Social Inclusion (CESI), G4S, Inspire-2-Independence, Maximus, Parkhouse Bell, Pertemps, Remploy, Salientwork Ltd, Seetec, Serco, Vinco Consulting, TWP Solutions and Working Links.