Lavinia Rusu and Ashfakur Rahman's story
Lavinia Rusu and Ashfakur Rahman
BA (Hons) Global Business Management

2012-2015
Lavinia Rusu and Ashfakur Rahman joined Coventry University London in 2012 to study for their BA in Global Business Management. After graduating in 2015, they set up award-winning sustainable fashion company ADKN. Lavinia and Ashfakur are a great example of the many success stories of Coventry University London and they have shared their thoughts about their time studying at the campus in the heart of the capital's financial centre and how it has shaped their careers.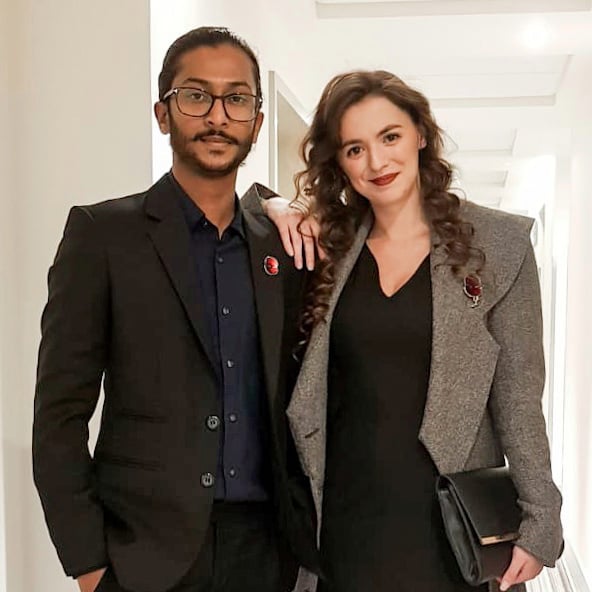 Lavinia said: "Coventry University has always been a prestigious name and one of the top universities in the UK for studying business, so when discovering the new London campus in the heart of the city, it was clear to both of us that we wanted to study there. The curriculum was very versatile, covered several business areas and we felt all necessary skills would be achieved to ensure success in our future careers.
"We both truly enjoyed the atmosphere that being in the City of London brought to our experience. It felt as if we were going into work as professionals from day one. It definitely helped put us in the correct business mind-set and offered inspiration and daily motivation. You never knew what great business mind you would rub shoulders with on the tube, or who you would walk past on the street. You could feel yourself becoming one with the city. We liked that Coventry University London focused on putting theory into practice.
Ashfakur said: "I always found what I learnt about economics and organisational behaviour to be very useful in setting up ADKN, as they helped me better understand demand and supply, scarcity of goods, identifying niche developing markets as well as the structure the company needed for success.
"The teachers were industry experts, always open to help, share their knowledge and experience and discuss any queries. Our favourite moment at Coventry University London was being approached by one of our tutors in third year, who just couldn't wait to share our mark on our entrepreneurship project with us. Obtaining a high mark on a project we so thoroughly enjoyed was invigorating and we felt so proud of our accomplishment. That was the moment we realised the strengths we had as a team and we decided to establish a business together - ADKN.
"Being exposed to such a multicultural environment helped us better understand different consumer mindsets, helping us create a fashion business with an ethical and diverse work environment.
"Our time at Coventry University London wasn't always smooth sailing, we had difficult projects and stressful deadlines but we were always surrounded by bright minds both in our tutors and fellow students, who always helped us see it through. We had knit such a tight community within our group and we're happy to say we're still in touch with our colleagues to this day! We reminisce about our trip to Germany for an experience exchange as a defining point of our strong bonds, when one of our colleagues got separated from the group in Frankfurt. We worked as a team and abandoned our individual plans to track him down, only to find him in the train station - we still laugh about that adventure!"
And what advice would Lavinia and Ashfakur give to any prospective Coventry University London students?
Don't hesitate! They say the three years they spent there were defining for their future self-development and career paths. Pointing out it's very important to make sure you choose a university which resonates with your goals and ambitions, they believe if that is the business world, then prospective students should look no further than Coventry University London, where they will be in the right place in the heart of the city, with the right industry experts who will guide you every step of the way towards personal and professional development.