New course aims to fast-track students for career in the digital industries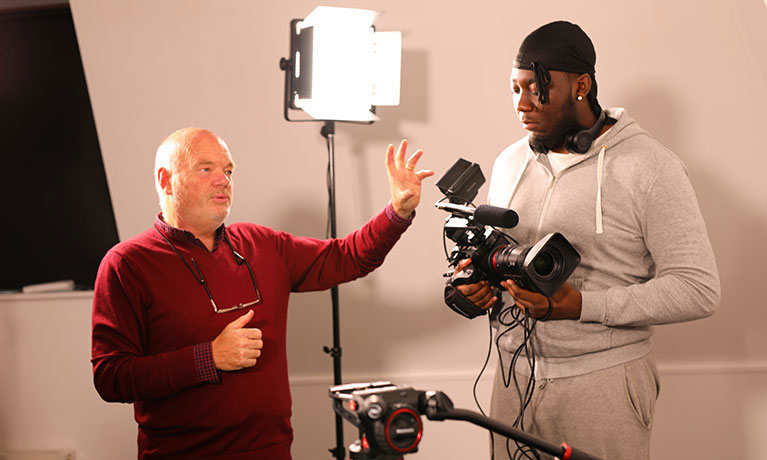 Degree news / Student news
---
news
Thursday 01 November 2018
Press contact
---
A new course designed to get students on the fast track towards a career in the cutting-edge digital industries in the UK - with input from some of the sectors' leading figures - has been launched in Coventry.
Academics from CU Coventry teamed up with digital design experts from internationally recognised companies based in London's digital trade hotspot of Soho to create the new BA Hons Digital Design Consultancy degree course, which aims to get students ready for work in just two years.
The course is CU Coventry's first ever accelerated degree, which sees students enjoy a shorter summer break but complete their studies one year earlier than with a traditional degree.
The news comes as CBI, the UK's premier business organisation which provides a voice for firms to policymakers, releases a report recommending that universities adopt shorter and more flexible courses and that there is more collaboration between employers and higher and further education.
The first batch of students to the new course are already reaping the benefits of exclusive access to a dedicated studio and production space, the latest camera, lighting and sound equipment and the latest industry standard software and hardware.
They have already been treated to a skills masterclass from Phil Middleham, BBC Broadcast specialist, with more lined up throughout the academic year, as well as academic trips out of the country.
The masterclass session was based around lighting techniques for interview – a particularly tricky technique to master, but one which Phil has perfected over his years in the UK and International broadcast industry.
The course content and modules have been built around the skills that industry experts want to see from graduates, ensuring that the degree has employability at its core.

This means that students will have the expertise to enter the industry much quicker, which is very important to today's graduates.

Our timetable of focusing on one module at a time will also provide students with the opportunity to put their skills into practice straight away.

For instance, our third module is web design and once this is completed, there's no reason why those on the course couldn't look to start their own web design business separately from studying for their degree.

Students have the opportunity to work with the latest equipment, something they typically wouldn't have the chance to do until the second or third year on a traditional university course.

They will be taught by tutors with industry experience, and the multi-disciplinary course means they will be able to pursue a wide range of careers. This could include roles in graphic design, motion graphics and animation, user interface design, mobile app development, camera production, advertising and marketing and project management.
The course is an amazing opportunity for both students and employers, with students being taught skills that are incredibly relevant to what the industry is looking for, while employers are given the chance to shape the degree and address skills gaps in the industry.

It is quite unique in that it is a mixture of both digital design and specific business elements such as consultancy work, which make it a fresh option in comparison to some of the more traditional routes that students can take.

It is excellent to see the launch of the accelerated degree. Technology is constantly developing and being two years means that the course can respond to this by creating industry-ready graduates with the latest knowledge at a faster pace.