Free course helps adults take the leap back into education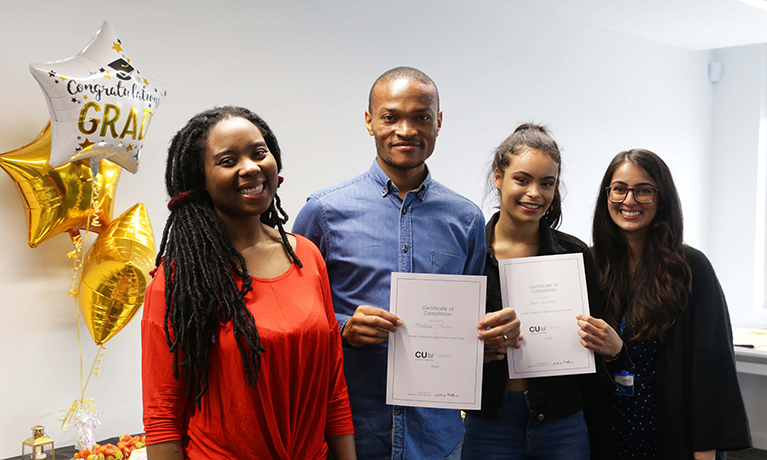 ---
news
Tuesday 02 July 2019
Press contact
---
Adults who took the leap back into education by completing an adult learning course at CU Coventry have celebrated their graduation.
Graduates of the four-week Connect course, designed to boost confidence in adults who may not currently be in education, employment or training, all received a certificate at a mini-graduation ceremony at CU Coventry's new campus on Mile Lane.
The course covers the benefits of higher education, how studies are funded, how to study effectively, and what courses are available to students who study within the Coventry University Group.
One such graduate was Leah Jackson, 19, a care leaver who was told that she should not apply for a university course when she was younger, despite having ambitions of becoming a midwife.
I saw an advert for the Connect course at CU Coventry online, and after a bit of thought I decided to apply.

The course was really great – it prepared me for what university involves and really boosted my confidence.

Now I've graduated from the Connect course, I know exactly what I need to do to apply for a midwifery course at Coventry University in September.
And another was Matsebe Thema, who opted to get back into higher education to set a good example to his four-year-old son.
I wanted to show my son that having a good education is very important in life, so I realised I needed to find a way back into higher education. But I wasn't really sure about the best way to go about it.

The Connect course at CU Coventry was perfect for me. It's given me the tools I need to pick a course that suits me and get the education I want.
The Connect course is a great way for adults to find out more about getting into higher education, especially if they're unsure of what steps to take.

The course covers all the key aspects involved in applying for further study, meaning everyone who completes the course will have a much better understanding of what to do next.

I think it is very important that people are supported in this way so they are able to make informed decisions about their future.

A large majority of the people who complete the Connect course then have the confidence to go on to either enrol on an Access course at CU Coventry, or complete a part-time degree, being able to benefit from the flexible learning on offer.

It's completely free, so anyone interested in furthering their education should consider applying for our next Connect course.
The Connect course is aimed at those aged 19 and above. No formal qualifications are required to take the course and participants receive a certificate on completion.
Anyone wishing to apply should call 024 7765 4962 or find out more online.