Abbie Fudge: improving access to education and employment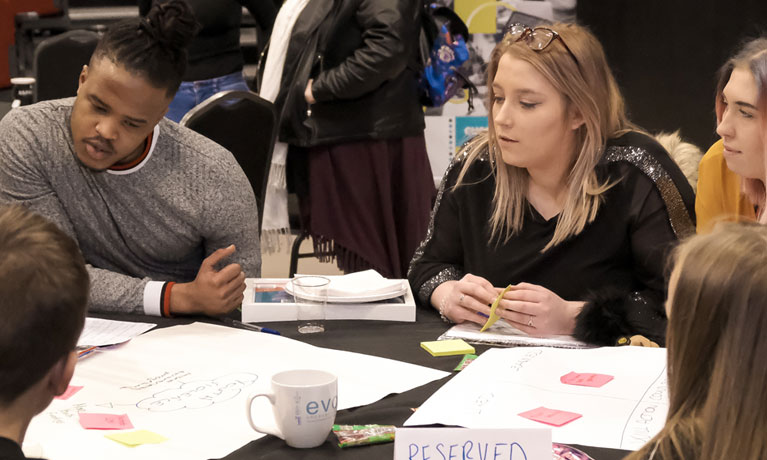 Abbie-Leigh Fudge attended Coventry University Social Enterprise's (CUSE) first ever idea ID8 workshop, in October 2019- an idea generation event for aspiring entrepreneurs. She discovered that in 2018, 788,000 people aged 16 to 24 were not in education or employment, and that there is a greater disparity in education and employment prospects for young people in areas of deprivation and poverty.
Upon this discovery, Abbie's idea to improve access to education and employment for vulnerable young people in Coventry was born.
As a result of the ID8 workshop, Abbie, who is a Coventry University Childhood and Youth student, enrolled onto the CUSE ConnectMe programme; a European Social Fund (ESF) funded project that offers one-to-one support in starting a social enterprise or further development or education.
Leading on from this, Abbie applied for Try It Funding, a unique opportunity for Coventry University Group students to receive up to £750 to try out a business or community project. Abbie's application was successful, and she ran a pilot of the Achieve 2 Succeed project for vulnerable young people in Coventry to progress into further education or employment. This project was halted due to COVID-19, however Abbie is hopeful that with further funding, this project will become accredited.
We are working very hard with local providers to ensure that we can complete this project before Christmas 2020, either virtually or via face to face delivery in local delivery settings adhering to social distancing and risk assessment protocol.
Abbie registered her business with Companies House under the name 'Changing the Future CIC' in February 2020.
In June 2020, Abbie applied for the Santander COVID-19 Crisis Fund and was awarded £1000 to help support the beneficiaries of this project who were particularly affected by the lack of resources during the national lockdown. This funding will ensure that the project will have the resources in place to support the beneficiaries once the project recommences.
Abbie is confident that the business will continue to grow with the support from CUSE, and has since attended another InspireMe workshop focussing on challenges around youth violence, knife crime and child criminal exploitation.
Having been through my own adversities, I have always wanted to support and help make a difference in people's lives. My passion for starting my own business grew from a single creative writing English project at secondary school, in which I chose to write about my own experiences. Soon it spiralled into so much more and was ignited from the ID8 event speaker Stacey-Jade Mason, who inspired me to take the leap.

Changing The Future' has changed my life and I hope it continues to help shape others'

By attending the ID8 workshops last year and accessing the mentoring offered to me, I have been able to successfully set up a community interest company (CIC) that is helping to improve opportunities for young people and adults in Coventry. Support through CUSE has allowed me to develop complex skills, such as the knowledge around setting up and navigating a business, and developing funding application bids, whilst also allowing me to continue to progress and grow.