Poland is the key strategic location for Coventry University Group's research, innovation and skills agenda in Europe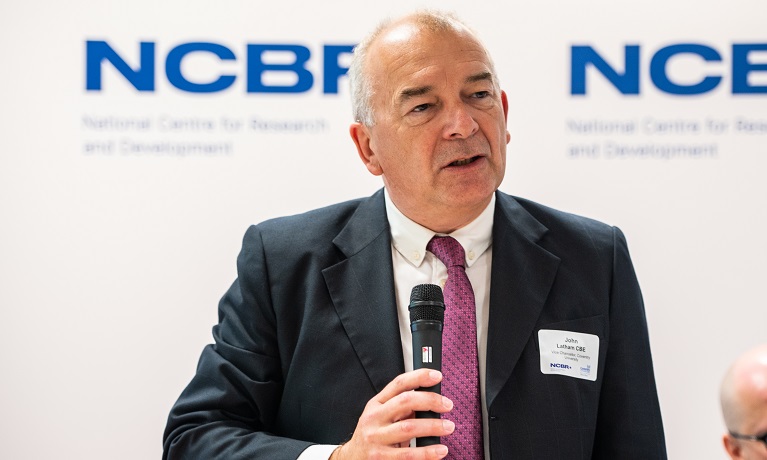 ---
---
Coventry University Group's Vice-Chancellor says Poland is the key strategic location in Europe for the Group's ambitious growth agenda given the Polish culture of innovation, investment in skills and openness to partnership and collaboration.
Professor John Latham CBE was speaking at an event in Brussels hosted by the Polish National Research and Development Centre (NCBR). In 2020 the University Group launched a new campus in the city of WrocƗaw and over the past couple of years has established itself as a recognised collaborator in the Polish R&I ecosystem. Coventry University has signed MoUs with a number of key national bodies including the Łukasiewicz Research Network (the national network of research centres in Poland) and the Future Industry Platform (national agency for digitalisation of industry).
Poland has a strong history of co-operation with the UK with an excellent science and research base, while sharing similar values, and is a strong partner in our European collaboration.

WrocƗaw is a dynamic and innovative city and an important location in Europe as a bridge between eastern and western Europe. Poland is the key market and Coventry University WrocƗaw supports our clear vision to create better futures in Coventry, the UK, in Europe and globally. We face many challenges – climate change, energy transition and digital transformation to name a few – and we are committed to working closely with our friends and colleagues in Poland and across Europe to provide sustainable solutions. We have a track record of delivering transformational skills at scale – upskilling and reskilling.

Coventry University Vice-Chancellor Professor John Latham CBE
The University Group's innovative approach to delivering skills and research for businesses and organisations has seen it warmly welcomed into WrocƗaw. Focusing on employers current and future skills needs, it already delivers courses to over 100 students in much needed areas such as cyber security, computing science and business management. In October 2022 a new Polish Research Dissemination Organisation (RDO) – Coventry University Research Institute Europe (CURIE) - was launched providing a new flexible instrument for the Group to engage fully in national and EU research and innovation funding programmes. The University Group is committed to being a trusted and reliable collaborator with the Polish R&I community, and a catalyst for investment supporting reskilling and upskilling at scale.
The University Group has received strong support from the city, and the Deputy Mayor of WrocƗaw, Jakub Mazur.
We are honoured to be the only city in Poland where you can study British degrees. I am sure that Coventry University will continue to positively impact the higher education sector, not only in Wrocław but in the whole of Poland, as it shows a strong focus on skills development to address not only current, but also future labour challenges.

Deputy Mayor of WrocƗaw, Jakub Mazur
I am originally from WrocƗaw, and I studied and worked as an academic at Coventry University in the UK for more than ten years.

It will fill us with immense pride when our first group of students graduate in September, and we have more than 100 students now at the campus with a real momentum for this to grow further. Such progress would not have been possible if it wasn't for the support we received from the beautiful city of WrocƗaw.

Dr Jacek Lewandowski, Campus Director for Coventry University WrocƗaw
Read more about Coventry University WrocƗaw.